MSS
Member

Posts: 765
From: Europe
Registered: May 2003

posted 02-06-2021 05:23 AM



---
For the first time, the entire four person crew (Michael Hopkins, Victor Glover, Soichi Noguchi and Shannon Walker) will pass the flight endurance record for the American crewed spacecraft.

On Monday (Feb. 8, 2021) at 01:42:50 UTC (on Sunday, Feb. 7 at 8:42:50 p.m. EST), Crew-1 aboard the International Space Station flight duration will be longer than the mission of the U.S. last station Skylab crew (Jerry Carr, Edward Gibson and William Pogue) on the same day but 47 years ago (84 days, 1 hour, 15 minutes, 32 seconds).

The duration of the flight is planned from 160 to 170 days.

The longest mission of one spacecraft onboard ISS so far has been the 215-day Soyuz TMA-09 mission (Sept. 18, 2006 to April 21, 2007), with the two person crew of American Michael Lopez-Alegria with the Russian Mikhail Tyurin.

The 203-day duration mission (Dec. 3, 2018 to June 25, 2019) of Oleg Kononenko (Roscosmos), David Saint-Jacques (CSA) and Anne McClain (NASA) is somewhat unique in that the crew and spacecraft remained intact: the same three crew members launched and landed on the same Soyuz MS-11 spacecraft (cited here).
Robert Pearlman
Editor

Posts: 45562
From: Houston, TX
Registered: Nov 1999

posted 02-07-2021 01:55 PM




---
collectSPACE
ISS, Skylab astronauts connect over new US spacecraft flight record

Astronauts on the International Space Station celebrated their SpaceX spacecraft reaching a milestone on Sunday (Feb. 7), by connecting with a former NASA astronaut who helped set the previous, long-standing record.

The four crew members who launched on the SpaceX Crew Dragon spacecraft "Resilience" last November marked their capsule surpassing the 84 days, 1 hour and 15 minutes that was the prior U.S. record for a spacecraft in flight, as set by the Apollo command module that flew on the Skylab 4 orbital workshop mission in 1973 to 1974.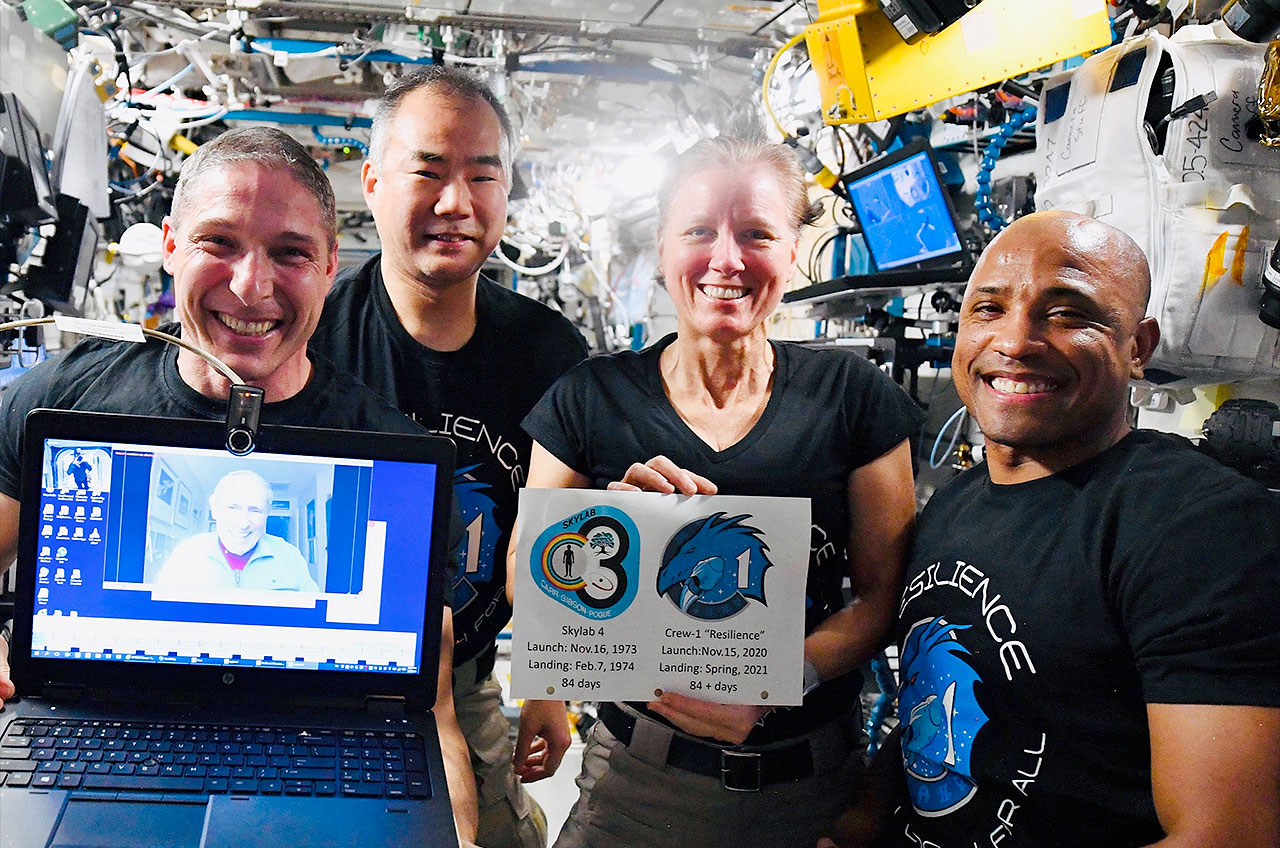 David C
Member

Posts: 1229
From: Lausanne
Registered: Apr 2012

posted 02-07-2021 02:31 PM



---
Congratulations, and about time too after 46 years! Glad Ed was still around to see it.