Richard Easton
Member

Posts: 119
From: Winnetka, IL USA
Registered: Jun 2006

posted 08-21-2009 12:53 AM



---
ChessBase.com: Swedish Astronaut to play Chess from Space
Remember American astronaut Greg Chamitoff, who a year ago played chess against the NASA ground stations. Well, now European Space Agency astronaut Christer Fuglesang, Sweden, is going to do the same, playing a game against the Swedish public. Right now Fuglesang is in quarantine awaiting and August 24th launch. But the game has already started, and you can take part.

The leading Swedish newspaper Dagens Nyheter is covering a chess game between the astronaut Christer Fuglesang and the Swedish people.

During the space odyssey Mr Fuglesang will be playing chess against the Swedish public. Dagens Nyheter will be covering the game "move by move" in the printed version of the newspaper. Online anyone who wants to can play against Mr. Fuglesang. Chess moderators will pick out three different moves that the public, playing black, will be able to choose from by voting online. The move that gets the most votes will be sent out to space.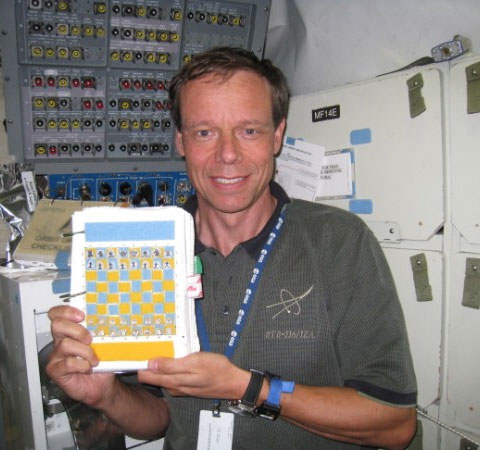 Mr Fuglesang will not be able to use a normal chess set. The weightlessness would create some problems with chessmen flying around everywhere. However, as usual the people from NASA have a solution. Mr Fuglesang has a specially created chess set made with Velcro, so hopefully his chessmen will stay "on-board".