Robert Pearlman
Editor

Posts: 27328
From: Houston, TX
Registered: Nov 1999

posted 08-16-2007 12:39 PM




---
Early this morning, STS-118 commander Scott Kelly reported to mission control finding a small nick in the number 2 forward window of Endeavour's cockpit. The "miniscule" strike, the result of micro-meteroid orbital debris (MMOD), dinged the outer 1.58 cm thick pane of the three-layer window. The 3.3 cm thick middle pane and 1.58 cm inner pane were not affected.

According to NASA public affairs at Johnson Space Center, the nick is not an issue for crew safety, nor will or can anything be done about it until after landing.

The following are pictures taken from aboard Endeavour of the strike: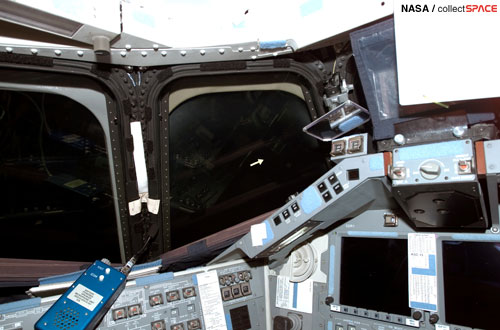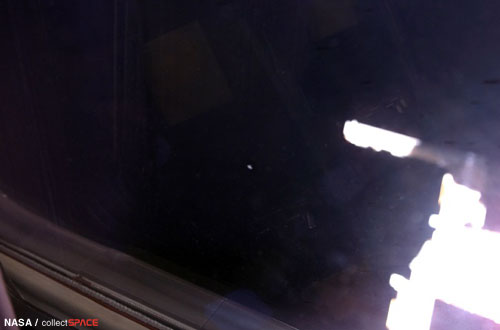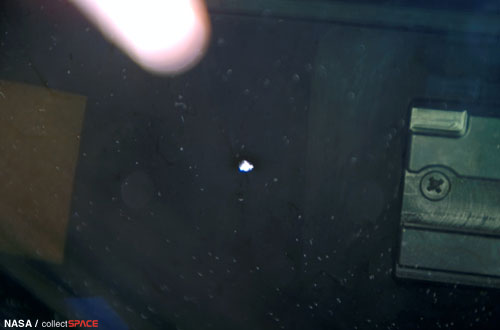 cspg
Member

Posts: 4046
From: Geneva, Switzerland
Registered: May 2006

posted 08-17-2007 01:01 AM




---
Does that mean that the entire window will have to be replaced or only "the outer 1.58 cm thick pane of the three-layer window"? Didn't know shuttle windows were so thick (6.5cm!).
Jay Chladek
Member

Posts: 2211
From: Bellevue, NE, USA
Registered: Aug 2007

posted 08-17-2007 04:40 AM




---
I believe the outer most panes can be removed and sent back to Dow Corning by themselves as opposed to having to dismount all the panes, especially when the inner pane also helps hold in atmospheric pressure while on orbit. They are indeed thick, but the beauty of a flat window is that you don't get lense distortion like one can get with a round bubble if it gets too thick (such as an astronaut helmet). Indeed there have been some spacesuit design studies done that have looked into the feasability of flat helmet visors so that the panes can be made thicker for more protection, but without causing vision distortion problems in the process.

One of the long tasks performed during orbiter maintenance in the OPF is to inspect each window for nicks and remove them. If the nicks are below a size threshold that requires them to be shipped to the manufacturer, then the next several shifts are spent polishing the windows to remove the rest of the nicks and dings in the windows. I seem to recall it takes two complete shifts (eight hours each)of scrubbing and polishing with mild abrasive polishing compounds to get all the nicks off each pane. In this case, I would say the window probably will get sent back to the contractor for replacement, given how big the nick is.