Robert Pearlman
Editor

Posts: 27328
From: Houston, TX
Registered: Nov 1999

posted 12-24-2006 12:23 AM




---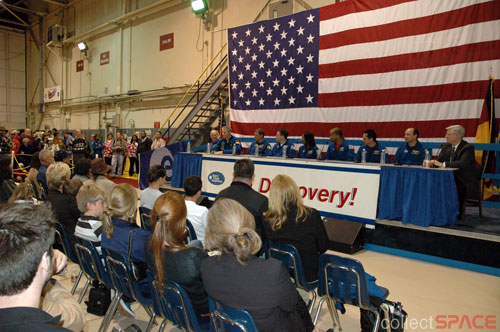 On Saturday afternoon, the crew of STS-116 and ISS Expedition 13/14 flight engineer Thomas Reiter returned to Houston from the Kennedy Space Center, where they landed aboard space shuttle Discovery yesterday. Awaiting them at Ellington Field was a hangar full of family, friends, NASA co-workers and the public to cheer their return.
Among the special guests in the audience were the Consul General of Sweden Ulf Hjertonsson and Texas Congresswoman Shelley Sekula-Gibbs.
Flight directors John Curry, Steve Stitch and Norm Knight, EVA lead Tricia Mack and the crew's training team were among the assembled crowd.
Also there to welcome the crew home was a very healthy showing of their astronaut peers including Reiter's STS-121 crewmates Steve Lindsey, Mark Kelly, Stephanie Wilson, Lisa Nowak and Piers Sellers; STS-117 mission specialist Jim Reilly; Expedition 11 flight engineer John Phillips, Expedition 12 commander Bill McArthur, Expedition 13 flight engineer Jeff Williams and Expedition 15 flight engineer Clay Anderson; ESA astronauts Leopold Eyharts, Claude Nicollier and Gerhard Thiele; Group 19 astronauts Jose Hernandez, Dottie Metcalf-Lindenburger and Ricky Arnold; Flight Crew Operations Director Ellen Ochoa; Johnson Space Center Director Mike Coats and Deputy Director Bob Cabana; Terry Virts, Sandy Magnus, Megan McArthur, Bob Behnken, Stan Love, Rex Walheim and Jim Dutton; and former astronauts John Young, Charlie Bolden, Ken Cockrell, Steve Nagel and Winston Scott.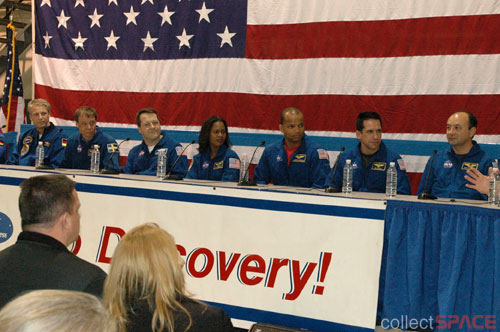 After landing at Ellington and entering Hangar 276 to a round of applause, the STS-116 crew was welcomed by Coats, who said in part:
quote:

---

An awful lot of planning and hard work went into the flight before this crew ever launched. During the mission, an awful lot of planning and re-planning went on because the solar array failed to retract fully. An awful lot of hard work by a very professional team of space experts was able to pull this off. But this crew made all of us look really good and I'd like to thank them personally.

---
Thiele, representing the European Space Agency in recognition of there being two ESA astronauts aboard Discovery, thanked Lindsey for "completing his mission" of delivering and then seeing to the safe return of Reiter by STS-116 Commander Mark Polansky, the latter of whom he thanked but noted that his mission was not over until "our sunshine 'Suni' comes home." Thiele said:
quote:

---

Today is really a joyous day in a season that is by itself normally very joyful. What we were watching yesterday with growing tension — and I think you didn't have to be at the Cape to feel the tension — was space flight at its finest.

---
Polansky then spoke, noting the filled hangar:
quote:

---

It's certainly awesome to see this many people as there are here two days before Christmas. It is a testimony to you all.

---
He then turned his attention to his mission, the work of his crew and setting a theme for the speeches to follow, his appreciation for the team supporting them on the ground.
quote:

---

Six months ago we were talking about getting STS-121 off, and if you think back at that time frame, we had a space station that didn't have more than one pair of solar arrays with P6, it had two crew members, and look at where we are now. I mean, it's a pretty awesome thing. I hope you'll agree that this is one heck of a way to bring 2006 to a close...

I think the legacy of this mission is going to be what we at NASA can do when all the different parts really pull together and work incredibly well as a team and that's what really made this mission a great success...

My holiday wish is that you guys, those who worked this mission in particular, get to relax, enjoy the holiday season, rest up. We'll learn a lot lessons from this mission, both good and bad, and we'll strive to make 2007 an even better year than we had in 2006.

---
Polansky's now "experienced" pilot Bill Oefelein supported his commander's view:
quote:

---

The experience was awesome but the teamwork I saw was something I'll always remember about this flight.

---
Robert "Beamer" Curbeam agreed with his crewmates:
quote:

---

I know Mr. Coats said we made you look good, but you know, really what happened was you made us look good.

---
Mission specialist Joan Higginbotham, whose sorority had turned out in force to support her triumphant return, spoke of how fortunate she felt to have experienced spaceflight:
quote:

---

I'd like to say that I am incredibly blessed and truly honored to be able to serve my country in this manner. It's a very unique opportunity that not many people get to do. I feel truly blessed for that experience. And its truly incredible to think that just 24+ hours ago we were up in space and now we are back here in Houston.

It's incredible how you can travel these days.

---
Nick Patrick reflected on the opportunities afforded him:
quote:

---

It is wonderful to be home... It's also wonderful for me to be here as a foreign born person. It is just wonderful what one can do in America, even as an immigrant.

---
With Swedish flags unfurled by his friends, Christer Fuglesang described his own journey from his home country to orbit:
quote:

---

It took close to nine years to be assigned, and then almost another five years before we finally got off the launch pad, I guess its two weeks ago now, but it was definitely worth every minute in space. It was just wonderful. It was a lot of work, but I enjoyed every second of it.

---
Fuglesang followed his remarks by sharing his favorite moment during STS-116:
quote:

---

To pick out what was a very special thing, was during the last EVA and [we were working on] the solar panel, and Beamer — probably the best EVA-er in the world — he was doing his [unintelligible] work, I had some time off and I was just looking down at the Earth passing by below. It was dark and... I could see part of the space station below me and I could see an aurora.

---
Last, but by far certainly not the least, was Reiter who both took to and exited the stage to the ringing of a bell, courtesy his fellow Expedition 13 crewmate Jeff Williams.
quote:

---

I think the last two years were a blur. I started training I believe initially with Expedition 11. I trained a little bit with Expedition 12. Most of the past I trained with Expedition 13. And then finally a little bit with Expedition 14. So I had the honor of having met really a lot of people and I can tell you that years were very very interesting and very rewarding...

The last half year seems to be a long time, in retrospect it went by in a blink of an eye. We returned to a three-person crew, we received a couple of flights and there was a couple of things done on the space station. We witnessed the station was growing. From the ESA perspective, we achieved our objectives that we had, completed the scientific program, we gathered some experience in preparation of the launch of our European module Columbus that will launch not too far in the future. I think we learned quite a lot in preparation for this mission.

---
In closing, Coats invited the crowd to meet the crew:
quote:

---

I'd like the audience to stick around and say hello to the crew, but I've asked the crew not to give autographs in order to have enough time and see everybody here tonight. They need to get their Christmas shopping done and [they are] running out of time here.

---
More photographs from the homecoming are posted to Recent Sightings.

[Edited by Robert Pearlman (December 24, 2006).]