posted 12-15-2006 09:01 PM




---

Today, the European Space Agency hosted a unique sporting event. Supported by the World Flying Disc Federation and sanctioned by the Swedish Frisbee Sport Federation, STS-116 mission specialist Christer Fuglesang broke the world record in the flying disc sporting discipline MTA, Maximum Time Aloft.
ESA believes that this is the first ever sanctioned sports event that has taken place in space.
The rules of MTA are simple: A player shall attempt to throw the disc in such a fashion that the disc remains airborne for as long as possible, before catching the disc himself. The timing of the flight of the throw shall be measured from the instant is initially touched in the catching attempt.
In this specific competition, Christer was free to waive the recommendation in the rules that an additional disc be available in the event a disc was lost or becomes unsuitable for use.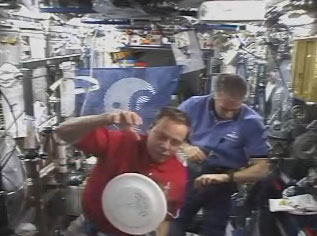 Fuglesang's record-setting attempt at MTA had an air time between his toss and catching the disc of 20 seconds.
Until today, the MTA world record stood at 16.72 seconds and was set by Don Cain on May 26, 1984, in Philadelphia, Pennsylvania. The sanction for the attempt to break it was formally announced by the Swedish Frisbee Sport Federation on December 10, 2006.