Robert Pearlman
Editor

Posts: 30999
From: Houston, TX
Registered: Nov 1999

posted 11-22-2014 07:50 AM




---
H2 (History 2), A&E's international spinoff of the History Channel, has a new series, Brad Meltzer's Lost History, a sort of "America's Most Wanted" for missing historical artifacts with even an award (up to $10,000) offered for information leading to their recovery.
Some of our most important historical and cultural treasures have been lost or stolen. Every year, dozens of treasures, from George Washington's teeth to the Apollo 11 moon landing tapes to even the iconic ground zero flag from the September 11 attacks, vanish from the shelves of famous museums, government archives and private collections.

Now, host Brad Meltzer leads the hunt to return these treasures to their rightful owners – the American people.
Back in June, the network flew me to Washington, D.C. to be filmed for a few of the series' episodes. The first one aired last night (Nov. 21), "Missing Moon Rocks."
Among the missing: actual lunar rocks brought back from the moon by American astronauts during the Apollo space program – and later stolen from NASA headquarters in a daring heist.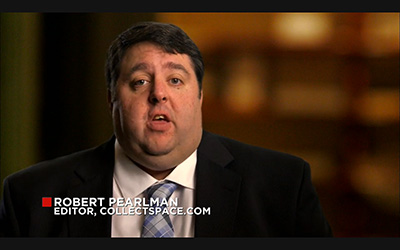 I was happy to share screen time with former NASA agent (and cS contributor) Joe Gutheinz and National Air and Space Museum curator Roger Launius.
The episode will air again on H2 on Nov. 30, Dec. 1 and Dec. 2. It is also available to watch online.
GACspaceguy
Member

Posts: 1681
From: Guyton, GA
Registered: Jan 2006

posted 11-22-2014 08:22 AM




---
Yep, having the morning coffee, watching the recording and there on our TV is the cS founder and editor, very cool.

By the way, I know they are serious about getting moon rock samples back. I was corresponding with a person on eBay once about their "moon rock" auction, telling them they were either committing fraud by saying it was a real moon rock or busting federal law by selling it if it was. I was contacted by the investigator asking about the response I received (which was to get lost). The auction was removed that next day.