Rick
Member

Posts: 269
From: Yadkinville, NC
Registered: Jun 2000

posted 07-25-2013 09:15 AM




---
I am running a half marathon on Oct. 26 to benefit the Victory Junction Gang Camp, which was founded by Kyle and Pattie Petty in memory of their son Adam.

The camp hosts hundreds of terminally and chronically ill children every year free of charge. You can check out its website.

Adam Petty lost his life in an accident during a NASCAR practice session in New Hampshire in May 2000. I was at the track that day, and it was far and away the worst day of my professional life. That morning, I had joked with him and two hours later, he was gone. Not long afterward, my wife and I found out that she was expecting twins, and one of the boys is named Adam in his honor.

I've done one previous half marathon, and it was the most pain I've ever experienced in my life. Am I looking forward to going through that again? No, I'm not. But I've done three 5k races at Victory Junction, and this year, I want to go the extra mile for Adam... for Kyle and Pattie... for my hero, Richard Petty (Adam's grandfather) ... and most of all, for those precious kids who attend the camp.

Now... for the space stuff! A very good friend of mine has offered to purchase copies of my upcoming book, "Wheel Stop: The Tragedies and Triumphs of the Space Shuttle Program 1986-2010" for the first 25 people who donate $100 or more. Astronaut Jerry Ross has also agreed to personally sign book plates thanking donors for their generosity.

That's not all. I'll also kick in a copy of the book I wrote with David Hilmers, "Man on a Mission: The David Hilmers Story" that David will sign.

Finally, every $100 or more donor will be entered into a drawing for a copy of "From the Trenches of Mission Control to the Craters of the Moon." That book will come with an absolutely stunning bookplate signed by Chris Kraft, Glynn Lunney, John Llewellyn, Jerry Bostick, Charlie Parker, Dave Reed, Chuck Deiterich, Gary Renick, Maurice Kennedy, Dutch von Ehrenfried, Bill Boone, Bill Stoval, Bill Gravett and Steve Bales!
The long and short of it is this. I would appreciate any help you might be able to give, whether it be $100 or $5. The link to donate can be found here.
Rick
Member

Posts: 269
From: Yadkinville, NC
Registered: Jun 2000

posted 07-31-2013 02:55 PM




---
I got the "Trench" book plate this weekend, and it truly is spectacular.

In addition to those who signed the plate pictured above, Steve Bales of Apollo 11 fame and Bill Gravett have also added their signatures to the plate. Their stories were added to the book in a third edition -- and that's the one the winner will receive!

In the interests of full disclosure, the plate does not come with an adhesive backing that would allow for placement in the book.
Rick
Member

Posts: 269
From: Yadkinville, NC
Registered: Jun 2000

posted 08-14-2013 07:47 AM




---
Here's the next piece of space history up for grabs in my Victory Junction Gang Camp half marathon fundraiser. It's one of the large Liberty Bell 7 lucites produced by the Kansas Cosmosphere.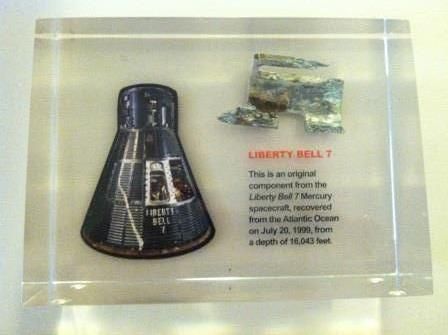 Donate ANY amount between now and Friday, August 23 and you'll be entered into a drawing for this very cool piece of memorabilia. Be one of the first 25 to donate $100 or more, and you'll also receive the "Wheels Stop"/Jerry Ross bookplate and "Man on a Mission" signed by David Hilmers!
The link to donate can be found in the post at the top of this thread.