Robert Pearlman
Editor

Posts: 27327
From: Houston, TX
Registered: Nov 1999

posted 07-11-2011 02:56 PM




---
Hodinkee, a blog devoted to the "most interesting and rare watches from around the world," shares the intriguing tale of a Vacheron Constantin for Apollo 14.
Two months ago, when we visited the Vacheron Constantin factory in Geneva, we were shown the image of a timepiece dating to the early 70s. On the dial of that timepiece was the crest of Apollo 14, the third NASA mission to take man to the moon, dating to January 1971.

The thing is, nobody at Vacheron knows anything about this watch, and there is only one photograph of it (which you see above). On top of that, Alex at the Hour Lounge tells us that there is no other trace of it in the archives, so we don't know the caliber used, case number, or anything else about it.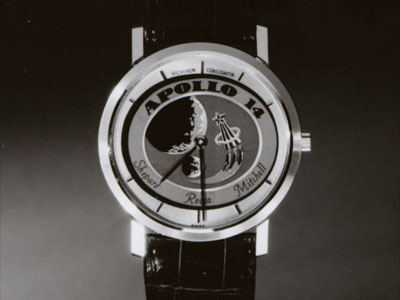 So, does anyone recognize this Apollo 14 watch? Can we solve this mystery?