Robert Pearlman
Editor

Posts: 27327
From: Houston, TX
Registered: Nov 1999

posted 06-29-2009 03:09 PM




---
California-based artisanal confection company Choclatique is offering the Moon Rocks Collection, their tribute to the 40th anniversary of the Apollo moon landings.
We wanted to honor the thousands of Americans who brought Project Apollo to life and the millions of citizens who funded these missions with our tax dollars. We created the Choclatique Moon Rocks Collection -- vividly-colored, 24-karat gold-veined, crystal-shaped chocolate confections... our interpretation of what might have been found if chocolatier been the first to land on the moon instead of the Apollo astronauts.

Choclatique Moon Rocks Collection offers 15 out-of-this-world flavors which include "Tangy" Orange, Moon Rock Mousse, Apollo Almond, NASA Nuts, Cosmic Crunch Caramel, Rocket Raspberry, Stellar Strawberry Shortcake, Lift Off Lime, Extraterrestrial Mint, Mission Control Fig, Lunar Lemon Caramel, Solar Sesame, Basalt Boysenberry, Pluto Pomegranate Caramel and Galactic Grape all cast in our Private Reserve Dark (64%), Prestige Milk (32%) and Snowy White (33%) Chocolate. These are not only Chocolates Out of the Box, but chocolates out-of-this-world.
Each box of 15 assorted "moon rock" chocolates retails for $30.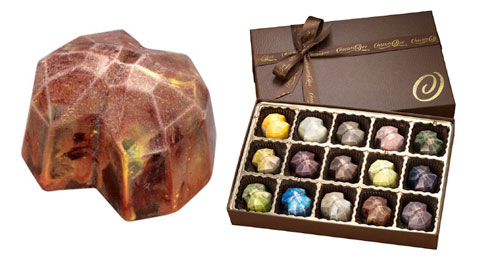 Photo credit: Choclatique