posted 03-19-2023 02:35 PM




---
I have two Apollo 11 plaques from the estate of NASA Public Affairs Officer William Der Bing (Deputy Chief, Special Events Office, Manned Spacecraft Center). Bill Der Bing accompanied the Apollo 11 crew on their post-flight activities, among many other duties spanning Mercury to early Shuttle.

I'd earlier posted here about the Aug. 12, 1969 Apollo 11 event at the Rice Hotel in Houston following release from quarantine. A recent post about the Presidential Dinner on the following day made me "re-curious" about both plaques.

Beginning with the Presidential Dinner plaque, my question is whether anybody has seen this exact wood (walnut?) version of the etched Lunar Module plaque replica? There is something similar on eBay (193002648285) but I think this is an original etched plate which was later nailed to a privately-made plaque.

I've certainly seen the paper-stock folder version of this replica plaque as a memento of the Presidential dinner but never in this NASA-sanctioned, plaque-mounted form. I presume there were at least 41 made given back side numbering but does anyone have any more information on these?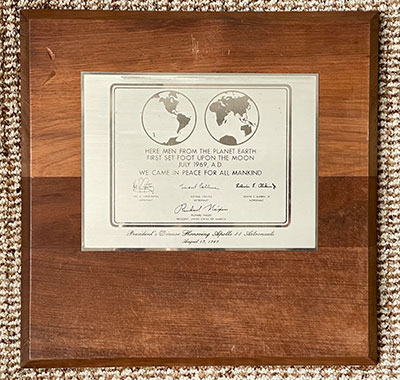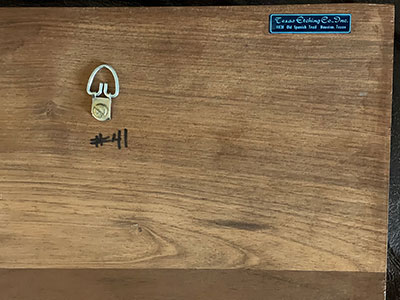 The second of Bill's plaques is identical to that given out by the Apollo 11 crew at their various Giant Leap tour stops.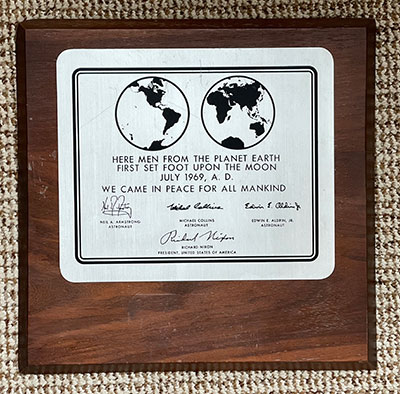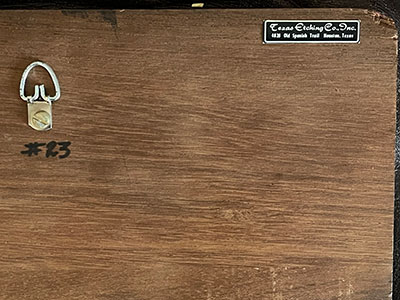 A screen grab from video of the Apollo 11 crew's stop in Bombay gives a decent look at one of the plaques being presented by Mike Collins.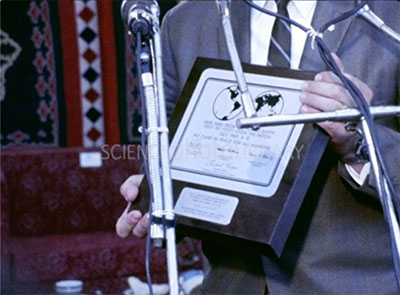 The only other parallel I've seen was scooped up for a song at a December 2022 Weschler's auction. This belonged to Elton Stepherson, Jr., who was also on the Apollo 11 "Giant Leap" Tour with Bill Der Bing.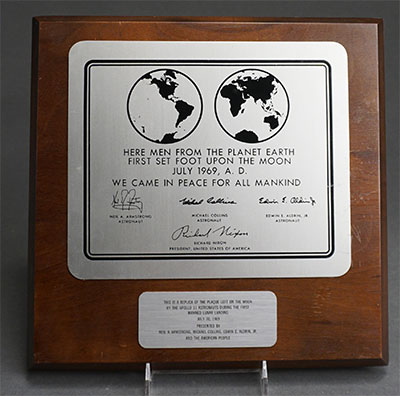 Bill's version is missing the smaller secondary plaque seen in both the screen grab and Elton Stephenson's presentation, though you can see where it had been glued on.
"Spare" plaques were a possibility. According to Geneva Barnes' NASA oral history: "I believe there was a plan for us to go to Israel and Egypt in the first proposed itinerary. But that was taken off, presumably for political reasons." A 2014 Smithsonian article indicates Hungary rejected a visit, also due to tense diplomatic circumstances.
My main question is whether anyone knows if this plaque (#23) was likely intended for one of the tour stops that was scratched (and thus Bill removed the smaller country-specific plaque) or if all of the Giant Leap NASA contingent (like Bill and Elton) received a similar replica presentation (and Bill's smaller plaque just fell off or was otherwise lost)?
I do note some subtle differences in the small plaque writing between the Collins image and that from the Weschler auction. Does anybody have a clear(er) photo of this plaque being given to a host country where the sub-plaque writing is legible and/or the back is visible? Thanks!