Ianhetho
Member

Posts: 235
From: Bogangar NSW Australia
Registered: May 2018

posted 12-28-2021 01:26 PM




---
In my online search, I have found two near identical cards signed by both Yuri Gagarin and Valentina Tereshkova. The postcards themselves appear to be the same and the signatures are in the same ink with similar placement.

The items are both for sale from different dealers and priced slightly apart. According to the sellers Steve Zarelli has reviewed both items.

My theory is that the cards were signed at the same time, possibly an event where both were present and that there are more of these cards about. Does anybody else out there have one of these cards or seen one before?

The cards are for sale from Artifact Cloud in Germany and the other is available from Robert Saunders via eBay, item number 164565741361.

The first picture below is from Artifact Cloud and the second is from eBay. Thoughts?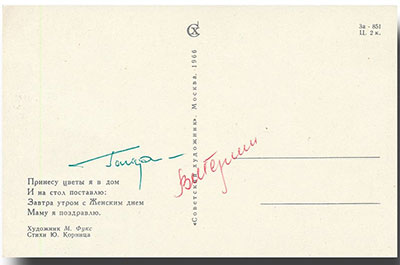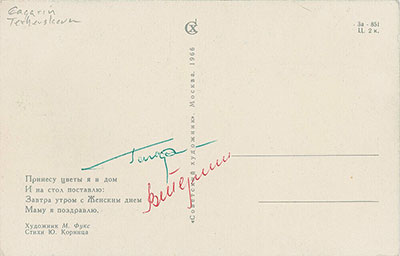 MIsterTrunk
Member

Posts: 67
From: Moscow, Russia
Registered: Feb 2015

posted 12-30-2021 04:16 PM




---
I don't recall the cards, but the signatures are good in my opinion.
NicDavies
Member

Posts: 30
From: Tobermory, Argyll, Scotland
Registered: Jan 2019

posted 01-01-2022 10:10 AM




---
Well spotted! It'll be interesting to see if any more appear.

I think Florian is putting most of his high-end material through Steve Zarelli's hands these days (I'm sure he'll correct me if I'm wrong about that).

Regarding the price being asked by both sellers, I think I'd still look to purchase the full Vostok KNIGA set for very similar money. You get Gagarin and Tereshkova of course, PLUS Titov, Bykovsky, Nikolayev and Popovich, and on postal covers with watertight provenance (not that I'm suggesting these aren't 'good').