jbnelson
New Member

Posts: 2
From: Colgate, WI, USA
Registered: Jan 2014

posted 12-04-2017 11:25 PM




---
Has anyone seen one of these Apollo 16 Employee Appreciation Certificates?

There are signatures of John Young, Tom Mattingly and Charlie Duke at the bottom of the parchment. They appear to be printed on the certificate and not hand signed.

Is that the case? How many of these were issued? Thanks.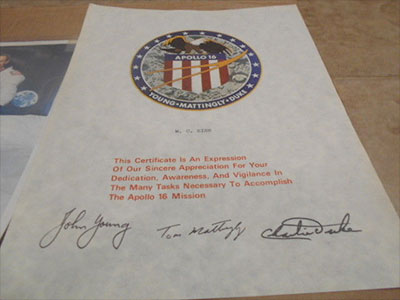 Ken Havekotte
Member

Posts: 2519
From: Merritt Island, Florida, Brevard
Registered: Mar 2001

posted 12-05-2017 03:31 AM




---
Yes, that's true, as the signatures are printed with thousands of them being distributed to the KSC work force after the mission.
jbnelson
New Member

Posts: 2
From: Colgate, WI, USA
Registered: Jan 2014

posted 12-05-2017 12:18 PM




---
Thank you Ken.