music_space
Member

Posts: 1164
From: Canada
Registered: Jul 2001

posted 11-10-2017 05:08 PM




---
Artcurial auction house, based in Paris, is auctioning on Nov. 18, 2017, first edition comic albums and figurines of space fiction, including one book autographed and annotated by Apollo astronauts Aldrin, Bean, Lovell, Duke and Worden. It also bears the author's autograph plus an inscription to fellow illustrator Henri Ghion.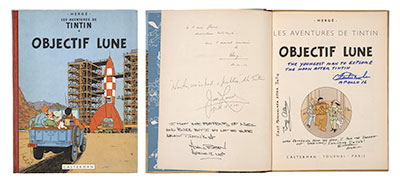 The Adventures of Tintin is a series of 24 comic albums created by Belgian cartoonist Georges Remi, who wrote under the pen name Hergé. Two of the albums, "Objectif Lune" ("Destination Moon"), published in 1953, and "On a marché sur la Lune" ("Explorer on the Moon"), from 1954, relate preparations for a moon mission and the mission itself, respectively.
The first of these two albums for sale is autographed and annotated as such:
Buzz Aldrin: "First moonwalker after Tintin"

Alan Bean: "I might see footprints of Neil and Buzz but I am not sure about Tintin's".

James Lovell: "Houston, we've had a problem like Tintin."

Al Worden: "When returning from the moon, I took the farthest out space walk!! including Tintin's" (In the second album, a drunk Captain Haddock makes an impromptu EVA and Tintin has to go rescue him.)

Charlie Duke: "The youngest man after Tintin to explore the moon" (Tintin is a teenage reporter)
Other lots include: Here's is the Wikipedia about Tintin.