posted 06-05-2021 07:38 PM




---
The STS-62A crew-approved patch is "GO!"

The 35th anniversary of the launch is in July. I plan to unveil the actual patch at Spacefest July 15-18, 2021.

The patches are now in production. I am accepting orders until June 15, 2021. The patches will be shipped the third week of July when I return home from Spacefest.

The price of the patch will be $6.25 (62A). Plus $10 for domestic Priority Mail. If anyone just wants one patch, they have the option of first class domestic mail at no additional fee.

For those who want it I will also offer a certificate suitable for signing for $10 or a mocked up commemorative crew photo for $10.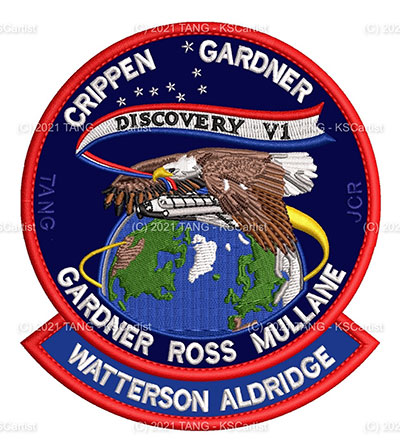 Background:
In early 1985, I wrote to Bob Crippen requesting to design the patch for the STS-62A mission scheduled to launch from Vandenberg Air Force Base in California in the summer of 1986. He wrote back on May 16, 1985 with an invitation to submit some art. I was thrilled.
The crew would have been:
Bob Crippen, commander

Guy Gardner, pilot

Jerry Ross, Mike Mullane and Dale Gardner would have served as mission specialists.

Brett Watterson and Ed Aldridge, payload specialists
I submitted four designs but the mission was canceled after the Challenger tragedy.

About six years ago, Jorge Cartes, and I polished up my original hand drawn art and released a set with (I think) an edition of 250. Through that effort I learned which design of the four was favored by the crew.

Well late last year I reached out to Jerry Ross and Mike Mullane via Facebook with an idea to finalize the patch design the way we would with crew input. This spring we did just that. I even shared the finished art with Bob Crippen via email and he was pleased wishing that they would have been able to fly.

The design will be made as an embroidered patch exactly as it would have been in 1986 with a separate sewn on tab for the payload specialist names.