thisisajob
Member

Posts: 207
From: Houston, TX USA
Registered: Sep 2007

posted 12-23-2013 10:51 PM




---
I am selling a beautiful 6" tall and 2"x2" Rocketdyne Propulsion & Power laser etched crystal that depicts the earth at the bottom, the shuttle stack with booster in the center and the ISS at the top - stars are etched in the background. A really nice piece.

Will ship international - let me know where its going and I will get you the shipping cost. Looking for $100 for it and will include for free a flown FGB sticker. Email with any questions!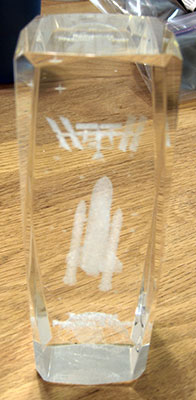 thisisajob
Member

Posts: 207
From: Houston, TX USA
Registered: Sep 2007

posted 12-25-2013 09:21 PM




---
Any interest in this piece?