lunareagle
Member

Posts: 424
From: Michigan
Registered: Nov 1999

posted 12-20-2013 12:00 AM




---
John Young flew his final mission as commander of STS-9, also known as Spacelab 1. Other than his own missions, he collected very few artifacts that commemorated other missions. He did obtain a single silver Robbins medal from the other two named Spacelab missions, STS-51F (Spacelab 2) (serial #95) and STS-51B (Spacelab 3) (serial #72).

Staying with the series, he also obtained a single silver STS-51G (serial #114), which was Shannon Lucid's first spaceflight, a STS-51I (serial #79), which was Dick Covey's first spaceflight, and STS-51D (serial #144), which was David Griggs first and only spaceflight. He died later in a plane crash.

He only had a single Robbins medal from each of these missions. They are offered as a group of five (5). All are unflown Robbins medals, each in their original issue plastic cases, each with its own typed and signed certification from Captain Young. This is a very beautiful collection of Robbins Medals.

Offered for $2295 plus $15 shipping/handling. Please reply to assetalt@aol.com for more information.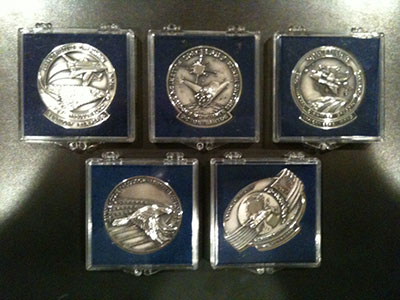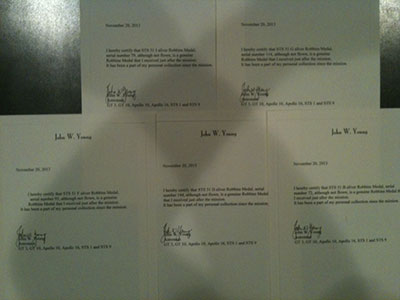 lspooz
Member

Posts: 105
From: Greensboro NC USA
Registered: Aug 2012

posted 12-20-2013 02:06 PM




---
Boy, do I need these! Just gotta get on Santa's nice list...