fromauction2u
New Member

Posts: 1
From: Lancaster, PA, USA
Registered: Feb 2013

posted 02-24-2013 12:37 PM




---
A print that was made at Grumman Aerospace when they were tasked with building the Lunar Excursion Modules (LEM, LM).

I can email a photo of the print (I'm not sure how to include a photo in this post.)
I think this may do it: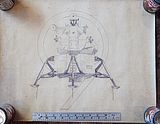 http://s1357.beta.photobucket.com/user/fromauction2u/media/Apollo9print-1_zpse0510339.jpg.html
This print is a representation of the Lunar Excursion Model overlaying the number 9.

This design was created internally within Grumman for the LM-9 module which was intended for the Apollo 15 mission, but was never used (it is now at the KSC). What makes this image even more interesting is that it is an early version created during the time, and not the final version. The patch itself was never manufactured.

Overall size is about 22 x 17 inches.

It appears that this print was made using the process that is also used to create blueprint-type drawings (diazo??).

This item was given to me by my brother-in-law back in the mid-1970's when he worked at Grumman on this project.

This print is in very good condition. It been rolled in a storage tube since I received it. Please note that the paper is slightly darkened with age and the print itself is a little on the light side.

I am selling this item for $100 including free shipping via 1st class mail in a mailing tube.
We are guessing that very few people have ever seen this print, let alone own a copy. This is a great opportunity to own a very rare and unusual item from the early space program!
randy
Member

Posts: 1360
From: West Jordan, Utah USA
Registered: Dec 1999

posted 02-24-2013 10:47 PM




---
Email sent.

Item is still available.