spaced out
Member

Posts: 2654
From: Paris, France
Registered: Aug 2003

posted 05-26-2012 04:52 AM




---
As a logical follow-up to my Grumman Lunar Module patch set (as discussed in this thread), which covers LM-4 through LM-12, and my replica of the LM-1/APOLLO-5 patch, I am pleased to announce my replica of the LM-3 patch is now available.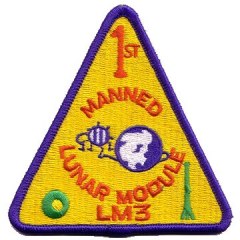 The original patch, produced to commemorate the Apollo 9 flight of the first manned Lunar Module, was likely created by Grumman workers at the KSC. It's not the most elegant of designs but the original patches are extremely rare and sought-after by collectors.
If you want to buy one of these replica patches please go to the Store page of my CrewPatches.com site.
Please note that since the manufacturing cost of this fairly small and relatively simple patch was lower than usual I've been able to price this patch somewhat lower than the other replicas.