KSCartist
Member

Posts: 2896
From: Titusville, FL USA
Registered: Feb 2005

posted 11-17-2008 09:41 AM




---
Manned Orbiting Laboratory Commemorative Patch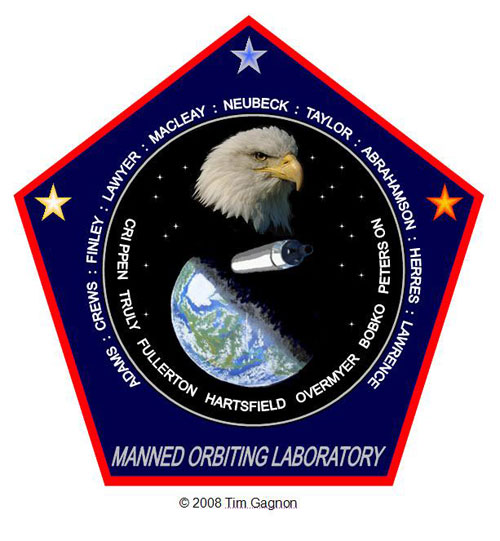 This design is the fifth in the series "Celebrating 50 Years of America in Space" it honors the men and women of the Manned Orbiting Laboratory Program.

The MOL program was an effort (before the development of sophisticated satellite imagery) to protect the assets of the United States against any entity that would cause them harm. Three groups of military astronauts were chosen for this program.

Group 1 - November, 1965: Michael J. Adams, Albert H. Crews, John L. Finley, Richard E. Lawyer, Lachlan Macleay, Francis G. Neubeck, James M. Taylor and Richard H. Truly.

Group 2 - June, 1966: Karol J. Bobko, Robert L. Crippen, Charles G. Fullerton, Henry W. Hartsfield, and Robert F. Overmyer.

Group 3 - June, 1967: James A. Abrahamson, Robert T. Herres, Robert H. Lawrence and Donald H. Peterson.

All of the Group 2 men as well as Truly from Group 1 and Peterson from Group 3 were selected as NASA Astronauts in 1969 after the cancellation of the MOL Program. They all went on to fly in the Space Shuttle Program. That is why their names are inside the black area of space.

The patch is 4" on each side with a merrowed border. It is not fully embroidered as the dark blue background is twill. This allows the surnames to be embroidered as clearly as possible. It is in the shape of a pentagon to honor the men and women of our armed services who protect our safety and freedom each and every day. There are 17 stars in space to honor these 17 men. The three larger 5-pointed stars represent the three service branches these men came from, the US Navy, the US Air Force and the US Marine Corps.

This design was created by Tim Gagnon of Titusville, Florida, a graphic and portrait artist with a life long passion for space exploration. His work is on display at the Kennedy Space Center, City Hall in Elmira, NY and the International Space Station.
Patches are $8 each plus shipping. To order, download and print the order form.