DGeraths
New Member

Posts:
From:
Registered:

posted 02-12-2004 04:15 AM




---
Geraths Design is proud to introduce "One small step", a new limited edition sculptured plaque commemorating the 35th anniversary of the Apollo 11 moon landing.
This sculpture is hand cast in resin and each one is painted and finished by the artist. The plaque is mounted on Alder, lacquered a deep semi-gloss black. the name plate is machine cut aircraft aluminum and decaled with the sculptures name and commemoration. This plaque can be displayed on your desk or computer table, or hung on the wall.
This beautiful collectable measures 6" x 6.5" inches. Each one is signed and numbered by the artist. Limited to an edition of 225, this sculpture is sure to go FAST so please order yours today!

Asking price is $49.95 plus $5.00 S&H anywhere in the US, overseas buyers pay actual shipping costs.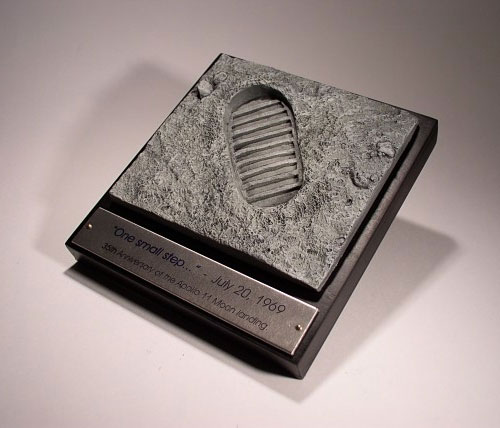 More pictures and information can be found here:
http://gerathsdesign.com/Moon.htm
If you would like to order one, please contact me. Remember, these are a LIMITED edition and many are already sold. Please do not wait to order yours.
------------------
Visit my Studios Website at http://www.GerathsDesign.com
[This message has been edited by collectSPACE Admin (edited February 13, 2004).]
Larry McGlynn
Member

Posts: 807
From: Boston, MA
Registered: Jul 2003

posted 02-19-2004 08:30 PM




---
Dana,

Thank you. I received my "One small step..." sculpture today. You have done a wonderful job in capturing the lunar footprint photograph in 3D with your sculpture.

It will hang with other artifacts on the wall of my study.

Thanks again.

------------------
Larry McGlynn
A Tribute to Apollo