Robert Pearlman
Editor

Posts: 48086
From: Houston, TX
Registered: Nov 1999

posted 01-13-2022 08:40 PM




---
SwissApollo release
Legends of Space: Humankind's Greatest Adventure Continues

18th and 19th March 2022
SwissTech Convention Center

Take an incredible journey through the past, current, and future of human spaceflight and space exploration, as we tell the continuing story of humankind's greatest adventure.

From Project Gemini to the Apollo program, to present day NASA and global space agencies commitment to landing humans including the first woman, and the next man on the moon by the mid 2020's through the Artemis program, establishing sustainable missions by the end of the decade, and to the next giant leap for all humanity — sending humans to Mars.

Legendary figures from the Gemini and Apollo missions, with prominent figures from space shuttle and International Space Station missions, to current USA and European Space Agency space mission leaders, and global commercial space partners.

Featuring live on stage:

Gemini VIII and Apollo 9 astronaut, Apollo 15 commander and moonwalker Dave Scott
Apollo 16 astronaut and moonwalker Charlie Duke
Apollo Mission Control Flight Director of all the Apollo missions Gerry Griffin
12th NASA Administrator and space shuttle commander, the Honorable Charles F. Bolden Jr.
Former director of the Johnson Space Center, space shuttle astronaut and the first Hispanic woman in space Ellen Ochoa
NASA astronaut and the first American woman to walk in space Kathy Sullivan
Swiss ESA astronaut Claudie Nicollier
French ESA astronaut Jean-Francois Clervoy
ESA Senior Advisor for Science and Exploration Professor Mark McCaughrean, with special guests featuring; current United States of America space mission leaders.

Featuring singers-songwriters Mark Armstrong and Kali Armstrong, the son and granddaughter of legendary Apollo 11 astronaut and commander Neil Armstrong, with an emotional special music performance tribute to the heroes of human spaceflight and exploration.

Hosted by SwissApollo, Lukas Viglietti.

For all event and show cast information visit Legends of Space.
BA002
Member

Posts: 202
From: Utrecht,NL
Registered: Feb 2007

posted 04-03-2022 05:39 AM




---
I attended the event on March 19. Charlie Bolden who was announced in the original plans wasn't present. Instead there were two additional guests, Bert Ulrich who acts as NASA's liason with the entertainment community, read Hollywood, and Holly Ridings, NASA's first female chief flight director.

To be honest, the main draw was obviously the presence of Dave Scott and Charlie Duke. I have met both on previous occasions, and I was well aware that, apart from a very expensive VIP package, there wouldn't be any room for personal interaction at this event. However, these days I regard any sort of event with more than one moonwalker as a serious proposition to consider, and so I decided to go anyway.

I had only just arrived at the convention center and was walking around the hall, when by coincidence I walked into the Omega LRV replica, where all six astronauts and Gerry Griffin had just assembled for a brief photo opportunity. Dave Scott sat at the controls with Charlie Duke next to him, and the others assembled around them.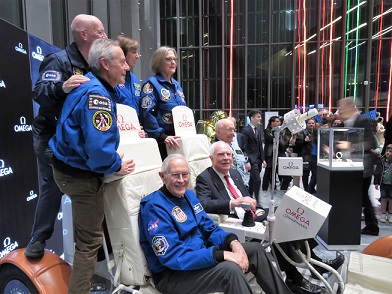 To me, right then and there was worth the price and trouble of the trip, in that I was relieved to see both moonwalkers had actually made it — you never know at their age — and the instant awe of realizing, once again, that these two men actually drove around on the Moon. I guess it will never seize to amaze me.
The event itself started with a Q&A by Lukas Viglietti of SwissApollo of Scott, Duke and Griffin, with Lukas translating into French. Since this event was catered for a large and mostly local audience, rather than just space geeks, the answers were nothing new to me but still I enjoyed just sitting and watching them reminisce, about things like Gemini VIII, the tension in the Control Room during the landing of Apollo 11, SCE to AUX, and the value of the LRV.
Next they were joined by Kathy Sullivan and Ellen Ochoa. To the delight of the audience Kathy Sullivan was sufficiently fluent in French so that the Q&A with her was conducted in that language, without translation back into English. My French isn't too good but in this particular context good enough to sort of follow along.
Then, after about an hour, it was time for a break. I briefly went outside and was greeted by a full moon just rising.
After the break Lukas briefly talked to Mark Armstrong about what his father was like as a father, and then Mark and his daughter Kali performed a song written by him based on his memory of his first flight with his father in a glider, when he was six years old. It's called "Flight of Fancy" and describes how being in the air makes the protagonist forget about all his earthly worries. It was interesting to see Mark, looking and even sounding a bit like his father, in this role, but I found it moving.
Then the next guests were introduced, first the two European astronauts, then Mark McCaughrean, followed by Holly Ridings and finally Bert Ulrich, all of which I found interesting enough but the one problem with having many guests within a limited time frame is that you can't really delve deeply into their particular field. I did find it interesting to think that if all goes well Holly Ridings will be the next Gerry Griffin, so to speak.
At the end of the Q&A the American crew briefly reappeared back on stage, for a final farewell.
Mark and Kali's band finished the evening with one more song written by themselves, followed by Pink Floyd's Learning to Fly and Under Pressure by Queen.
Finally Mark said goodbye and to go out and look at the full moon, which I personally would have done anyway but I thought it a nice touch for him to end the evening with.
All in all, I thought it well worth the trouble and expense. After the last major event I attended, Starmus in 2019, I am glad that something of this nature was finally possible once again.