To honor Childhood Cancer Awareness Month in September, Beads of Courage, Inc., (BOC) a non-profit that provides innovative, arts-in-medicine supportive care for children coping with serious illness, their families and the healthcare providers who care for them, is launching the
Beads of Courage
® Beads in Space Tour and Bead Design Challenge, presented by maxIT Healthcare.
BOC Children and families will be invited to see handmade Beads of Courage space beads that flew 4.8 million miles at over 17,500 miles per hour aboard the NASA Atlantis Space Shuttle Mission STS-132 and Endeavour Space Shuttle Mission STS-134 and to participate in the Beads of Courage Bead Design Challenge.
The kick-off event on September 1st at Children's of Alabama in Birmingham will include special guests NASA employee Jamie Newton and daughter Sydney, a Beads of Courage member, who were instrumental in launching the Beads in Space program.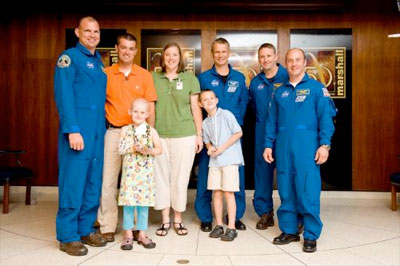 Above: STS-132 astronauts Tony Antonelli, Piers Sellers, Ken Ham and Garrett Reisman with NASA employee Jamie Newton, his wife Cynthia, their son Dawson and daughter Sydney, a Beads of Courage member.
Other Beads of Courage tour stops will include; Children's Healthcare of Atlanta (Scottish Rite), Arkansas Children's Hospital, Children's Hospital of Philadelphia, Rady Children's Hospital, Eastern Maine Medical Center, Children's Hospital of Pittsburgh, Central DuPage Hospital, Hurley Medical Center, and Parkland Health & Hospital System.
"I pursued getting the Beads of Courage aboard the shuttle Atlantis in the hopes of raising awareness about Beads of Courage and the work the organization does helping children undergoing medical treatment, like my own daughter who has been helped so tremendously in her own healing process," says Jamie Newton. "We are excited that these beads will also inspire the children that have inspired us."
Children who participate in the Beads of Courage Program are able to tell their story using colorful beads as meaningful symbols of courage in their unique treatment path. Each bead represents something painful or difficult, but also says "I did it!" The Beads in Space Tour, presented by maxIT Healthcare, LLC, will travel to ten hospitals and cities throughout the U.S. during the months of September and October.
"We are supporting the Beads of Courage Beads in Space Tour because we have seen the power that this program has to help children and their families cope with serious illness, as well as heal," says maxIT Founding Partner and Board Member, Robert Moore, "Beads of Courage provides a tangible way to honor and recognize the incredible challenges that children coping with a serious illness experience every day.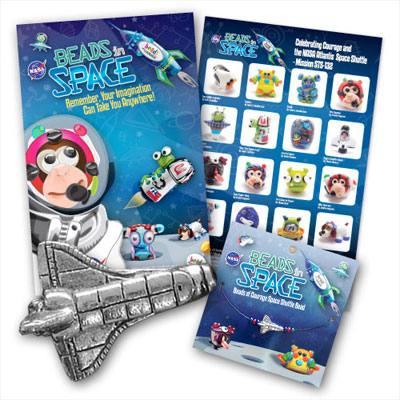 Each child participating in the events will receive a commemorative Beads in Space shuttle bead and poster, and have an opportunity to participate in the first annual Bead Design Challenge. Each hospital will have a specific theme and the top bead design artist from that hospital will be paired with an artist from the International Society of Glass Beadmakers (ISGB) to have their Bead of Courage® created.
The top 10 designs from each hospital will be featured in a book to be released in late 2011 and made available to the public for purchase online at beadsofcourage.org. All proceeds of the sales benefit Beads of Courage.
"The Beads of Courage Program provides a way to honor and acknowledge the incredible courage that children facing serious illness demonstrate every day," says Beads of Courage founder and Executive Director, Jean Baruch. "The Beads in Space Tour is a way to connect kids to an adventure that is full of hope and excitement for the future while the Bead Design Challenge allows them to explore their creativity and further solidifies our strong relationships with the hospitals and health care professionals that implement our programs."
Anyone can support Beads of Courage, Inc. and Childhood Cancer Awareness Month by making a donation or purchasing a shuttle bead and poster.
Tour Schedule (Events are for BOC members/families/invited media and closed to the public unless specifically stated as a PUBLIC event.)
| | | | | | | |
| --- | --- | --- | --- | --- | --- | --- |
| Hospital / Venue |   | Location |   | Date |   | Theme |
| Children's of Alabama |   | Birmingham, AL |   | 1-Sep-11 |   | INSPIRE |
| Children's Healthcare of Atlanta |   | Atlanta, GA |   | 2-Sep-11 |   | |
| FlameTree Glass (PUBLIC) |   | Roswell, GA |   | 3-Sep-11 |   | COURAGE |
| Arkansas Children's Hospital |   | Little Rock, AR |   | 8-Sep-11 |   | PEACE |
| Children's Hospital of Philadelphia |   | Philadelphia, PA |   | 13-Sep-11 |   | HOPE |
| Rady Children's Hospital |   | San Diego, CA |   | 15-Sep-11 |   | STRENGTH |
| Eastern Maine Medical Center |   | Bangor, ME |   | 22-Sep-11 |   | LOVE |
| Children's Hospital of Pittsburgh |   | Pittsburgh, PA |   | 24-Sep-11 |   | HOPE |
| Pittsburgh Glass Center (PUBLIC) |   | Pittsburgh, PA |   | |   | |
| Central DuPage Hospital |   | Winfield, IL |   | 26-Sep-11 |   | LIFE |
| Hurley Medical Center |   | Flint, MI |   | 28-Sep-11 |   | JOY |
| Parkland Health & Hospital System |   | Dallas, TX |   | 6-Oct-11 |   | SPIRIT |