A floral space shuttle transports youngsters on a "Space Odyssey" to a fantasy galactic space station as Ronald McDonald House Charities of Southern California returns to the Rose Parade with its sixth consecutive entry. The group is dedicated to providing a home-away-from-home for seriously ill children and their families at their Ronald McDonald Houses and Camp Ronald McDonald for Good Times.

Credit: NBC
The 2010 Ronald McDonald House Charities of Southern California float depicts the ultimate fantasy home-away-from-home. Elements of the float spin, swivel and flash brilliant lighting effects, all "powered" by eucalyptus leaf-covered solar panels. The float's riders are children who have benefited from Ronald McDonald House Charities of Southern California.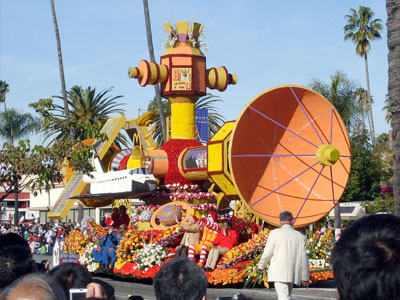 Credit: Flickr
FLOWERING: The NASA space shuttle has a body created with fine ground white rice, with nose and belly "heat shields" of nori seaweed and onion seed. The solar panels at the rear of the float shine with silverleaf, purple and lavender statice, with everlasting highlights. The space station's satellite dish has kermit green button mums, yellow and orange strawflower, purple statice and yellow chrysanthemums.

The main body of the craft is yellow strawflower and whole red carnations, accented with fine cut parsley flakes. The planets comprising the galaxy beneath the space station variously feature statice, everlasting, strawflower, lentil seed and ground split peas. "Fingers" of roses, daisies and carnations shoot spaceward from the base of the float.