Robert Pearlman
Editor

Posts: 27327
From: Houston, TX
Registered: Nov 1999

posted 09-23-2008 11:06 AM




---
NASA release
50th Anniversary Gala Event Carried Live On NASA TV and Internet

NASA Television and nasa.gov will broadcast a gala event commemorating the agency's Golden Anniversary on Wednesday, Sept. 24, at 8 p.m. EDT.

The invitation-only celebration, organized by the American Institute of Aeronautics and Astronautics (AIAA), is being held at the Smithsonian's National Air and Space Museum Steven F. Udvar-Hazy Center in Chantilly, Va.

The program honors NASA's 50th Anniversary and celebrates the power of innovation and discovery, and recognizes the agency's challenges and achievements over the past five decades. Award-winning journalist and WJLA-TV news anchor Leon Harris will serve as master of ceremonies. Event participants include:

George Muellner, AIAA president

U.S. Sen. John Glenn, former Mercury and space shuttle astronaut

Neil Armstrong, former Gemini and Apollo astronaut

Michael Griffin, NASA administrator

The event also will feature a video presentation hosted by Gemini and Apollo veteran Jim Lovell and a message from the Expedition 17 crew aboard the International Space Station. The televised program will end with a special performance of "Fly Me to the Moon," directed by music impresario Quincy Jones and the Space Philharmonic, and performed by Frank Sinatra, Jr.
Robert Pearlman
Editor

Posts: 27327
From: Houston, TX
Registered: Nov 1999

posted 09-25-2008 07:16 PM




---
I also attended last night's celebration as a guest of a friend at Lockheed Martin. It was a memorable evening and like Joe (collocation), I enjoyed the opportunity to see the Udvar-Hazy's exhibits lit at night (one particular striking effect was on the SR-71, where rotating lights gave the impression that its engines were firing).

In addition to the lights, the hangars were set-up with seating and serving stations, some with some very nice ice sculptures.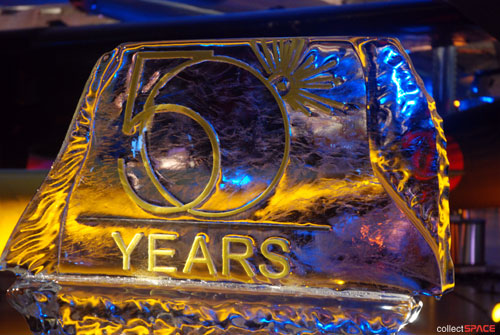 The food ranged from fine hors d'oeuvres to carving stations to delightful and appropriately-themed desserts (e.g. Black Hole Brownie Bites, Solar Flares and Sorbet, and white chocolate shuttles with black chocolate bellies). At the center of one of the dessert tables was this chocolate International Space Station that was perhaps a bit too nice, as no one wanted to break off a piece to eat.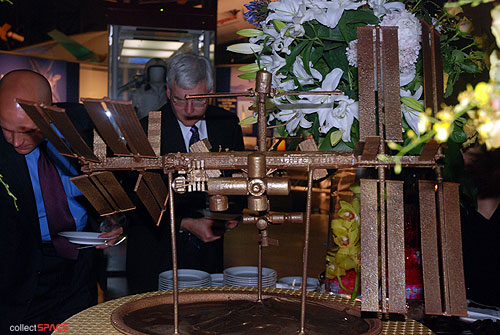 (Looking at the photo now, it may have not been chocolate, but rather painted to look like such. It was very convincing if so!)
If you were watching the NASA TV broadcast, a toast was offered, and the champagne glasses had the NASA 50th Anniversary logo on them (whether planned or not, they quickly became for many a souvenir of the event).
As was aired on NASA TV, the evening featured several speakers including NASA Administrator Michael Griffin, John Glenn and Neil Armstrong.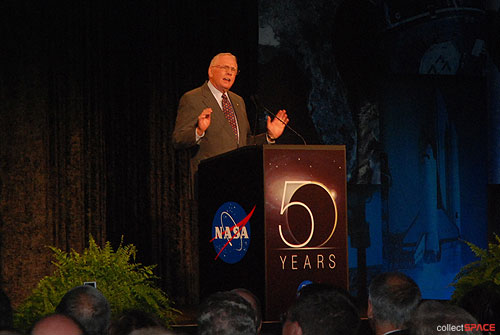 Though not recognized during the program by name, there were numerous other astronauts and NASA personalities in the audience. I talked to or spotted in passing Buzz and Lois Aldrin, Tom Stafford, Dan and Jane Brandenstein, Jim Voss, Kathy Sullivan, Loren Shriver, Rick Hieb, Andy Allen, Steve Squyres and Bill Gerstenmaier.
Most of all though, it was a chance to see and celebrate with friends from the cS and space communities, including members of the National Air and Space Museum's space history division, Dan LeBlanc from the Kennedy Space Center Visitor Complex and many, many others. A few fellow journalists were there, too, (taking the night off from our respective roles as press) as can be seen here posing with Enterprise: yours truly, Tariq Malik from Space.com and Jeff Foust of The Space Review.