Robert Pearlman
Editor

Posts: 27327
From: Houston, TX
Registered: Nov 1999

posted 07-19-2005 10:01 AM




---
Disneyland Press Release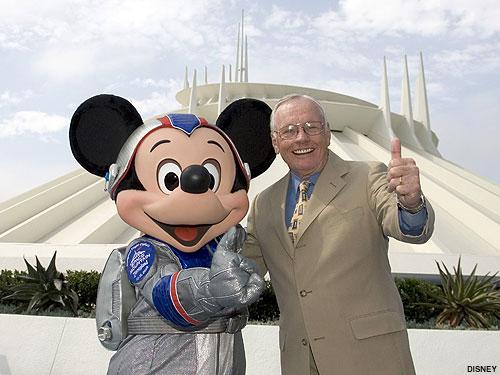 ANAHEIM, Calif. (July 15, 2005) – We have ignition and lift-off as "Space Mountain," rated by Americans as their favorite Disney theme park attraction in a national survey released earlier this week, blasts-off into a new era of thrills! The popular Disneyland attraction reopened today in a ceremony attended by legendary U.S. Astronaut Commander Neil Armstrong, the first man to step foot on the lunar surface of the moon (July 20, 1969).
With Mickey Mouse attired in his state-of-the-art space exploration suit, Armstrong was joined by Matt Ouimet, president of Disneyland Resort, in official "launch" ceremonies in front of the distinctive gleaming white spires and slopes of the attraction. "Our guests will be pleased to experience the enhancements that we have made to 'Space Mountain' and happy to know that we have maintained the thrills that have made it a favorite for many years," stated Ouimet.
The high-speed interstellar adventure that has captivated Disneyland guests since the 1970s reopens following nearly two years of being re-Imagineered for the 21st century. As the signature attraction of Tomorrowland, "Space Mountain" beckons guests anew to its special brand of intergalactic fun.
The attraction's regular daily flight schedule resumes with enhanced narrative elements within the attraction and Space Port area, while retaining its essential theme and flight path. "Space Mountain" fans will find the attraction sporting a new generation of special effects, new rocket vehicles, a brand-new, customized soundtrack by noted film composer Michael Giacchino ("The Incredibles," "Alias," etc.) and a smoother, darker ride.
Through an all-new hi-tech launch port inspired by today's era of space exploration, guests feel as if they have a first-hand look into the cosmos. After boarding their rockets, guests speed through the launch tunnel, hurling them towards a close encounter with a large meteorite. Following an exhilarating race through space, the experience culminates with a new finale featuring a longer re-entry tunnel filled with spectacular lighting effects.
The initial idea for "Space Mountain" originated with Walt Disney himself back in the mid-1960s, when the concept was simply known as "Space Port" and destined to become an addition to Tomorrowland at Disneyland. The concept became a reality in 1975 when, after more than a decade of planning, the first incarnation of "Space Mountain" actually premiered in the Magic Kingdom Park at Walt Disney World Resort in Florida.
"Space Mountain" had its southern California debut at Disneyland two years later on May 27, 1977. The U.S. Mercury Astronauts, America's first men in space, were on hand for the grand opening ceremonies and to christen the 118 foot tall "mountain." Since then, the rockets of "Space Mountain" have carried over 171,600,000 would-be astronauts, covering 8.8 million miles or equal to more than 18 round trips to the moon!
"Space Mountain" joins an incredible array of innovative new adventures and spectacular entertainment premiering at Disneyland during its 18-month 50th anniversary celebration. The 50th anniversary is also being celebrated globally and features the introduction of spectacular new shows and attractions at Walt Disney World Resort in Florida; Tokyo Disney Resort in Japan; and Disneyland Resort Paris in France, plus the first west coast itinerary for the Disney Cruise Line and the opening of Hong Kong Disneyland (September 12, 2005).
Spacepsycho
Member

Posts: 711
From: Huntington Beach, Calif.
Registered: Aug 2004

posted 07-19-2005 10:40 AM




---
We live about 20 minutes from Disneyland and my son & I are there about 2-4 times a month to play during the week.

I called the Disney PR dept because I wanted to attend the ceremony and it turns out that it was a private affair, opened only to Disney execs, but not the public.

I can't blame them due to the fact the NA would have been swamped, but I don't think I'll ever get to meet him.

Ray
FFrench
Member

Posts: 3093
From: San Diego
Registered: Feb 2002

posted 07-19-2005 10:54 AM



---
Hello Ray,

Armstrong has done at least two talks in LA and one in Bakersfield in the last couple of years (posted on CollectSpace sightings), so I would not give up hope, I am sure he'll be back to do another talk at some point.

Having said that, he was the last of the 12 moonwalkers I met...

FF