BMckay
Member

Posts: 1906
From: MA, USA
Registered: Sep 2002

posted 04-15-2005 09:47 AM




---
Anybody see this?
Bryan
[This message has been edited by collectSPACE Admin (edited April 15, 2005).]
Robert Pearlman
Editor

Posts: 27327
From: Houston, TX
Registered: Nov 1999

posted 04-17-2005 08:25 PM




---
Houston Chronicle: Group to honor engineers who helped save Apollo 13

Also: Famous rescue turned engineers into heroes

And from MSNBC's Cosmic Log: Saving Apollo 13

[This message has been edited by Robert Pearlman (edited April 18, 2005).]
Sy Liebergot
Member

Posts: 458
From: Pearland, Texas USA
Registered: May 2003

posted 04-19-2005 07:14 AM




---
I'm delighted that they finally got recognition. Too bad the reporters were too lazy to learn and report the team members' names....
Sy Liebergot
"Apollo EECOM: Journey Of A Lifetime" www.apolloeecom.com
Robert Pearlman
Editor

Posts: 27327
From: Houston, TX
Registered: Nov 1999

posted 04-19-2005 12:06 PM




---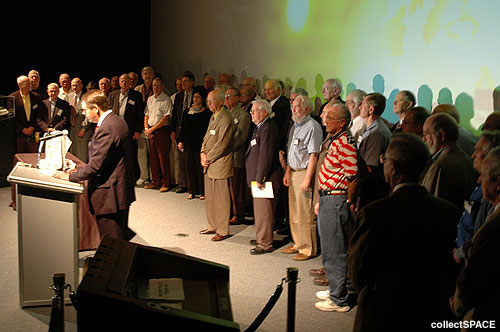 With approximately 35 members of the 1970 NASA Crew Systems Division in attendance, retired CSD chief Robert "Ed" Smylie accepted the first annual Great Moments in Engineering Award from GlobalSpec President John Schnieter, Ph.D. at a ceremony held this morning.
From the event's program, about the honorees:
quote:

---

In the predawn hours of April 14, 1970, an emergency which was unfolding in space was producing an equally extraordinary series of engineering decisions on the ground. Thousands of NASA employees and others in Houston and around the globe rose to meet the crisis aboard the Apollo 13 spacecraft, enabling a safe return of three astronauts a harrowing 90 hours later.

Engineering teams of NASA's Crew System's Division had far less time. Carbon dioxide absorber capacity in the Aquarius lunar lander, being used as a lifeboat, was insufficient to last through the closing days of the aborted mission. In a great moment of engineering, Crew Systems Division personnel labored three hours to conceive a reconfiguration to lithium hydroxide canisters which would lead to a successful resolution to the limited absorber capacity aboard Aquarius.

Over the next 31 hours, CSD would fabricate a modified canister, test and improve it and develop in-flight construction procedures to be followed by the crew. The switch to the new configuration enabled unused carbon dioxide absorbers from Odyssey, the crippled command module, to be used aboard Aquarius. Carbon dioxide concentration, which had climbed to a threatening 7.5 mm Hg before the switch to the new configuration, dropped to 0.3 mm Hg just 30 minutes after the cutover.

Apollo 13 splashed down in the Pacific two days after the life-saving modification and more than 142 hours in space on April 17, 1970.

---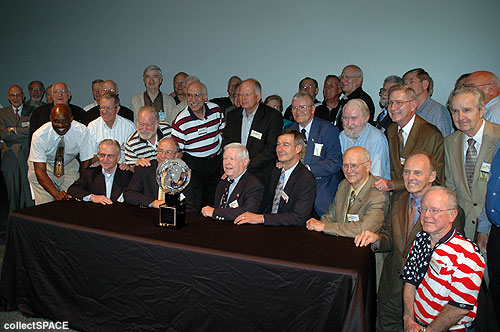 Present at the breakfast ceremony were astronauts T.K. Mattingly and Fred Haise (seen above, far left and center). Haise, as Apollo 13 LMP, spoke highly of the CSD team work on Apollo 13 but also described another occasion when they came to his rescue. Years after the flight, Haise was in an aircraft accident that resulted in burns over 65% of his body. He required skin grafts on his calves, which usually meant having screws drilled into his bones to suspend his legs while healing. As there was concern of the holes presenting a pressure problem during a possible later flight, members of the CSD team devised a velcro support using a metal plate mounted at the foot of Haise's bed and matching hooks on the bottom of his strap on sandals.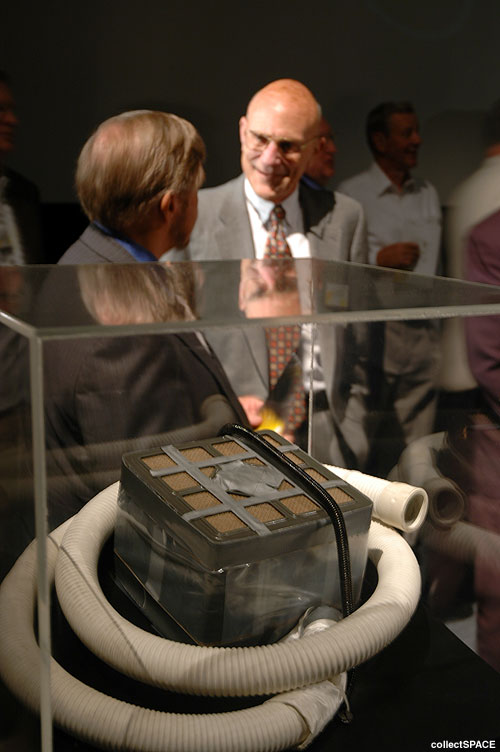 Mattingly (above, with one of the first mock-ups of the CSD's handiwork from 1970) was the first astronaut in 1970 to review the team's scrubber solution and its assembly, and in turn instructed for Tony England to do the same and then write the in-flight instructions for the Apollo 13 crew to follow. Mattingly thanked the CSD division for "putting up" with him, which was received with a warm laugh from those assembled.
A duplicate of the team's award will be placed on display in the current Crew and Thermal Systems Division at NASA JSC.