posted 09-28-2004 01:37 PM




---
I traveled to Oklahoma City this past weekend to attend the 2004 Induction of the Oklahoma Aviation and Space Hall of Fame. John Aaron was inducted in to the Hall of Fame and Gene Kranz not only introduced him to the Hall but Gene was also the keynote speaker of the evening. I would like to share this event with you.

I first learned that John and Gene were going to be at the event through an announcement on this webpage. I called the Omniplex in Oklahoma City right after I read the press release on collectSPACE and purchased a ticket. The event was on Saturday the 25th of September. On the Tuesday before the banquet my wife received a phone call from the Omniplex. I was still at work so they asked her why I was coming to the banquet and who I was coming there to see. She told them the only name she could remember was Gene Kranz; she is not interested in our hobby. They said they were working on the seating arrangements and since I was coming to see Gene Kranz they would seat me at his table. I was shocked. I called them back the next day and they confirmed that they were going to seat me with Gene Kranz. I told them that I was coming to the banquet to see John Aaron inducted in to the Hall and they said that they had actually put me at John's table. I asked about Gene's table and they said that Gene did not actually have a table of his own but that Gene was going to be seated at John's table. Needless to say I told them that this seating arrangement would be fine. I was on cloud nine the rest of the week.

I had a hardback copy of Gene's book Failure is not an Option so I decided to take it and ask Gene if he would autograph it for me. I also have a hardback copy of Charles Murray and Catherine Cox's "Apollo: Race to the Moon" and I took it hoping to get John Aaron and Gene Kranz to sign it. I also purchased an 8x10" photo of the Mission Control patch that the fine people at farthestreaches.com sells. This print shows the patch or emblem that was used by Mission Control during the early days at NASA. Sy Liebergot had already signed the print and I was hoping to add John Aaron and Gene Kranz's signatures to it.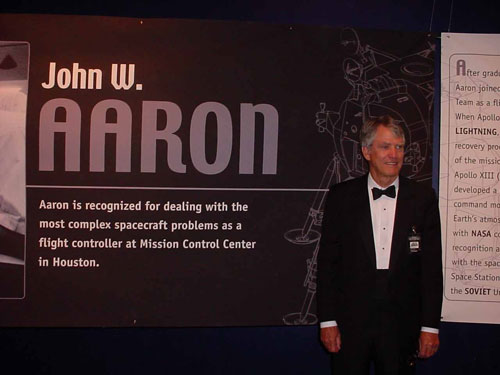 The cocktail hour started at 6pm and the banquet was scheduled to start at 7pm. I had never been to any event like this and I have never meet an astronaut or a anyone from Mission Control before so I was looking forward to the banquet with nervous anticipation. I arrived at the Omniplex a little before 6pm and when I checked in I was told that I was seated at table #24. I was looking forward to taking a photo of the nameplates on the tables showing the seating arrangements. I was going to take a photo of my nameplate at the John Aaron table.
I walked into the banquet room and I turned to walk towards the tables so I could set my books, photo, and camera down. I looked at the first group of people gathered in a small circle and I had to do a double take. One of them was John Aaron. I stopped for a second and then I noticed Gene Kranz was also in the circle. He had his back to me. Not wanting to dive in with an autograph request I headed for the tables and in no time I had found #24. Table #24 was only 3 tables away from the speaker's platform. I must admit that I was not too surprised to see that there were no nameplates at this table but there were nameplates at some of the other tables. Somehow I just could not understand why I was going to be allowed to set with John and Gene. I think I knew at this point that I was not going to be at a table with John and Gene. I did not go and read the nameplates on the other tables but instead I headed back to John and Gene.
I found them in the same place but as I got there John said that he had to go check on his family and he left the circle. It closed up again so I stood off to one side to wait a bit. At that time someone came in the room and Gene Kranz said "Well Jerry Bostick. It is great to see you here for John's banquet." I did not know that Jerry was going to be there. Jerry and Gene chatted for a while then Jerry moved on. John came back and someone else came to talk with Gene. John was mostly alone now so I went up and introduced myself and congratulated him on his induction in to the Hall of Fame. He shook my hand and asked if I was a staff member of the Omniplex and I explained that I was not but that I had come to the banquet to see him inducted. I spoke with John for a few minutes and he was very nice and easy to talk to. He thanked me for attending. Then someone else came up to talk with John so I stepped aside and looked for Gene.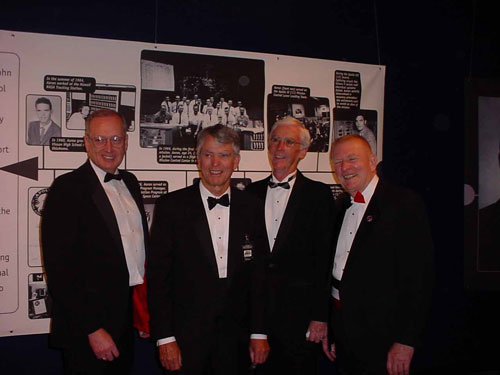 Gene was standing near by and he had a couple of people talking with him. I waited for my chance to meet him. At one time he looked at me so I extended my hand to introduce myself and at the same time someone else grabbed for him. The other person asked if Gene would sign a copy of Failure is not an Option. Gene said that he would but that he wanted to step off to a table where no one was at and sign them there. At that time I went and got my two books and the Mission Control print. Gene was still signing books when I got back to him. I asked him to sign his book first and he agreed to. Then I asked if he would sign this book and I showed him the Race to the Moon book. He said "Oh My. This is a great book." Then he explained to me that he had been trying to buy enough copies of the Race to the Moon so that he could give them to members of his family. He said that he had purchased two on E-bay but that he had to give about 40$ for them. He said that he let other copies go when the bidding reached more than he wanted to pay. He said he was really happy to see the book was being re-released and that he had made arrangements to purchase one of the first cases of books from the publishers. Then he signed my copy of Race to the Moon.
Then I told him that I had one more item that I wanted to ask him to sign. I took the Mission Control emblem print out of the package and Gene looked at it and said "Oh Wow. Where did you get that?" I told him that I got it on-line at farthestreaches.com. He then said, "I would be happy to sign it but we just have to get John and Jerry to sign it too." Sy Liebergot had signed the print and Sy had added "Apollo EECOM SkyLab EGJL" under his signature. Gene signed it Eugene Kranz and added "Flight" under his signature. He handed the print back to me and then a couple of other people were asking him to sign books for them so I stepped aside. Gene signed those books then he looked at me and said "OK Lets go find John." We did and Gene told John to look at the print that I had and John thought it was great too. He signed it John Aaron and added "EECOM" under his signature. Some more people came to talk with Gene while I waited for John to sign my print. This gave me the chance to ask John to sign my copy of Race to the Moon. John took the book and opened it page 19 and told me a little story about the quotation on that page. The quotation reads:
I talk to people who say, "Gosh, John, all we gotta do is think back twenty-five years ago and we can go to Mars the same way." I say, "No, you can't. It was a unique set of circumstances that lined up all of those dominoes." JOHN AARON.
John said that when he made that comment to Charles Murray that John did not expect the comment to make it into the book. John said they were just chatting and it did not come during what he considered part of the interviews. John seemed pleased and happy with the quote but he also seemed to be humbled that the quote was placed on the opening page of the opening chapter of the book. Then he signed my copy of Race to the Moon. Gene was still standing close by but he was now talking with some other people and this gave me a chance to chat with John again. I asked about his family and he said that he had 20 family members at the banquet that night. Soon Gene looked at me and said, "Lets go find Jerry and have him sign you print."
He took me over to Jerry Bostick and showed the print to Jerry. Jerry agreed to sign the print and under his signature he added "FIDO." I thanked Gene for taking me to John and Jerry and Gene went to talk with other people. Jerry and I talked for a while and he said that he was working on a project that if it came to be would have solar array collectors on the moon that would be able to transfer their power back to the Earth. He is hoping that if Bush is elected that Jerry and his group would be able to get this project included in any return to the moon. I showed Jerry my copy of Race to the Moon and he agreed to sign it. Jerry then told me how much he liked the book and that it was one of his favorites. He really praised Charles and Catherine and the detail to attention that they gave to the book. I mentioned that the Omniplex had become the home of Gemini 6 and Jerry said that he had seen the spacecraft earlier that evening. Then he said how proud the Gemini 7/6 mission had made everyone because they have finally beat the Russians at something. Of course he was talking about rendezvous. He also mentioned the flag waving that went on in Mission Control when Gemini 6 and 7 was flying in formation. I told Jerry that a few years ago someone was selling on E-bay what was supposed to be one of those actual flags and Jerry was surprised to hear that someone would actually sell one of those flags. Then Jerry told me that he had a flag from every mission. I would love to see Jerry's personal collection of flags.
Soon they made the announcement that it was time to be seated so the banquet could start. I headed back to table #24 and found that my seat still had my book and camera bag on it but the other 7 chairs were taken. I scanned the faces and Gene and John were not setting there. Oh well, it was a nice thought anyway. At that time a lady came up and asked if I was Mike Myer and I said I was. She said she worked for the Omniplex and that she was glad that I had made the trip to see John inducted in to the Hall of Fame. I told her it was my pleasure and she told me that she was glad that they could seat me at "one of" John Aaron's tables. She then explained that the seven people seated at this table with me were John's nieces and nephews. When she left one of John's nephews introduced himself and then the others followed with their names. They asked who I was and I explained that I was attending the banquet to see John inducted in to the Hall and they seemed glad that someone had made the trip to see him. I told them that I had talked with John and that I enjoyed our visit. They asked if I had a chance to have my photo taken with John and I said no. They said that after the banquet that they would make sure that happened.
After a great meal the inductions started. John was the last to be introduced and Gene Kranz did a great job of introducing John to the hall. John gave a nice speech about how 40 years ago John and his wife packed up their belongings in the car and headed south to cross the Red River for a new life in Houston. Little did they know that 40 years later they would cross the Red River headed north to be inducted in to the Oklahoma Aviation and Space Hall of Fame. John thanked many people including his lovely wife. After John's speech Gene gave the keynote speech and it was filled with his emotional rememberances of the times at Mission Control. He spoke of the early flights and of Gemini 5, which was the first mission where John was member of the Mission Control team. Later he talked about the sad events of the Apollo 1 fire and of the thrilling days of the flight of Apollo 11. He praised John for his actions during the Apollo 12 and 13 missions. Then he talked of how all too soon the Apollo Program ended with the flight of Apollo 17. The night ended with a standing ovation for Gene.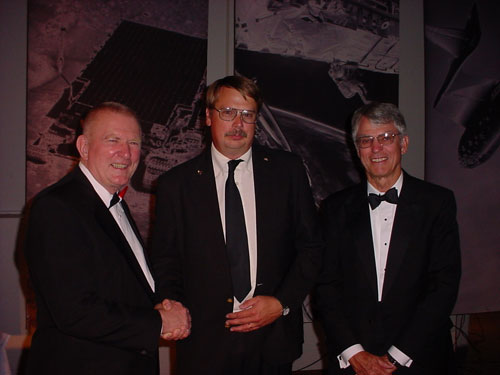 After the final speech I stood up and waited for my chance to ask for a photo with John Aaron. The Omniplex staff was getting all of the inductees together for a group photo so I had to wait a few minutes. I looked over at the nieces and nephews and they were pointing for me to look back towards John. When I looked back I noticed that John's wife was standing in front of me. She told me that she had heard that I had attended the banquet to see John inducted in to the Hall and I told her that I had. She thanked me for that and told me that I needed to have a photo taken with John. She took me up to John and told him that I would like to have my photo taken with him. He said that would be great then they asked Gene if he would stand next to me and John. Gene stepped next to me and then my camera acted up. I turned it back on and gave the camera back to one of John's family members. As he was getting the camera ready Gene told me to "give him some skin" and he took my hand for a handshake and they took the picture. I thanked John and Gene for the photo and I thanked John's wife for arranging the photo.
My family stayed at a local motel and spent the evening swimming in an indoor heated pool. Just before I left for the banquet my 11 year old daughter asked me if I could get "the man who climbed trees to watch airplanes" to sign something for her. We watched The History Channel's "Failure is not an Option" documentary and it showed Gene climbing trees as a child to watch planes. I took one of the programs from the banquet and asked Gene for one more autograph for my daughter. He inscribed it to her and then added "Aim High" and signed it Eugene Kranz. That was the cap to a truly wonderful evening. I got to meet John Aaron, Gene Kranz, and Jerry Bostick. I got Gene to sign Failure is not an Option and I got all three of them to sign my copy of Race to the Moon and I got all three to sign my Mission Control photo that Sy had already signed.
The signatures are great but it was more special just to meet these fine gentlemen. I had to think with a smile that Gene Kranz had lost, at least in my mind, some of the legend that gave him the nickname of "General Savage." At least tonight there was nothing savage about him. — Mike Myer