Ken Havekotte
Member

Posts: 2588
From: Merritt Island, Florida, Brevard
Registered: Mar 2001

posted 03-14-2018 08:35 AM




---
One of my favorite Apollo cachet cover series was produced by NASA's Launch Vehicle Operations (LVO) directorate at the Kennedy Space Center in Florida from 1969-75.

Though not considered official KSC-NASA rubber stamp cachet covers (ONCs), nevertheless, the limited series were considered official KSC-NASA printed #10 cachet covers, but were never issued nor released to the public.

Depicted below are the three-cover series commemorating the launch day liftoffs of Apollo 11, 17, and the final Apollo/Saturn launch, which was the Apollo-Soyuz Test Project.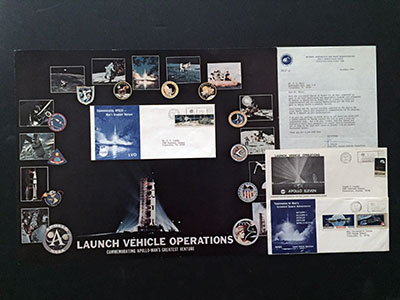 The launch day envelope covers were mailed to each LVO team member, a few hundred of which all were NASA civil service employees, working at Kennedy on the Apollo/Saturn 1B and V launch vehicle programs. The LVO directorate at KSC handled all rocket stages of the Apollo/Saturn manned spaceflight vehicles.
Inside most of the envelopes were a type-written letter on KSC-NASA stationery hand-signed by the LVO Director. In the case of the Apollo 11 and 17 missions, it was German/U.S. rocket pioneer Dr. Hans F. Gruene, LVO Director throughout the 1960's until the end of the Skylab program. For ASTP in 1975, the letters were hand-signed by LVO Director and Chief Engineer Isom "Ike" A. Rigell, second in command before his promotion to head up the LVO directorate in 1974.
It should be noted that Gruene was an original member of Dr. Wernher von Braun's rocket development team from Germany's war-time Peenemuende with the development of the V-2, the world's first ballistic rocket. During the early 1950's, Gruene had become the second employee of what is now the Kennedy Space Center. He was a brilliant engineer and as LVO director for NASA, he led his team to an impressive launch success record; all but one of the Apollo/Saturn V moon rockets and Skylab Workshop Station launches were on time.
American rocket pioneer, Ike Rigell, was an original member of the Cape Canaveral launch team since the early 1950's. Rigell, a decorated Marine veteran of WWII having fought for his country at the battles of Iwo Jima, Midway, Saipan and Tinian, was a leading team member for the World's first free satellite (1958) and first American in space (1961). He had been chief engineer of all the Apollo/Saturn program launches.
micropooz
Member

Posts: 1457
From: Washington, DC, USA
Registered: Apr 2003

posted 03-14-2018 09:43 AM




---
Wow, thanks Ken! I have one of the Apollo 11 LVO covers and always wondered about the story behind it. Now I know! And need to look for the Apollo 17 and ASTP covers as well...

Ken Havekotte
Member

Posts: 2588
From: Merritt Island, Florida, Brevard
Registered: Mar 2001

posted 03-14-2018 07:34 PM




---
Always good to hear from you, Dennis, and I may have an extra or two of the LVO covers for Apollo 17 and ASTP. It seems, though, that there are more Apollo 11/ LVO covers floating around out there than with other later issues.

I've also got some of the AS-506/LVO covers with Cape launch cancels instead of KSC, but also have a few more left with the main KSC-M cancel strikes.

Let me check on them a little bit further, and from my understanding, LVO covers were only done for these 3 missions and not from any other Apollos nor Skylabs?

In addition to the LVO series, there were some other very nice #10 aerospace company issued Apollo 11 covers such as TWA's Apollo Support Team (another favorite of mine), RCA, Pan Am, United States Steel, just to name a few for now.