posted 04-15-2014 02:21 PM




---
I was examining some of the insurance covers in my collection as well as comparing photos that I found online of the various Apollo 11 variations.

I have noticed that on all of the Type 1 covers (moon landscape) Aldrin's signature is the typical pre-flight style without the underscore under his name. On all of the Type 2 (Dow) and Type 3 (Emblem) covers that have sold (or are selling) in recent auctions, Aldrin's signature is underscored.

Reproduced here is a now well-known photo of Joan Aldrin posing with numerous covers of most of the variations and none of them appear to have an Aldrin underscore, even the Types 2 and 3, contrary to those that have sold in recent years with the underscore.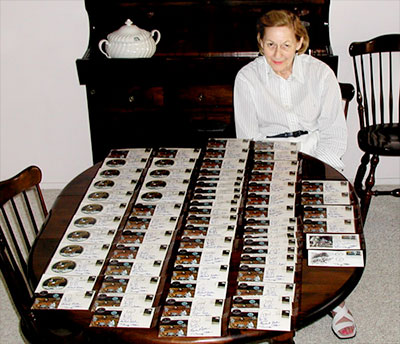 Also, the more recent sales of these two types have Aldrin's signature appearing much more bold than the others, and of course, with the underscore. This almost seems as though these examples might have been signed at a later date? Possibly Aldrin had his own stash he hadn't signed at the time and later signed and released?
So, are we sure Aldrin signed all of his insurance covers pre-flight? Perhaps it doesn't really matter, but I always thought that Aldrin didn't start the underscore until post-flight and to not see any underscores on any of the Aldrin signatures in the Joan Aldrin hoard does seem odd to me.
I ask because I have examples of all types of covers and all of the Aldrin signatures with underscores are bright bold blue ink, whereas the underscore-less ones are in a more "vintage" looking ink.
I thought someone here might have some insight into this?