astrobock
Member

Posts: 55
From: WV, USA
Registered: Sep 2006

posted 06-21-2013 03:48 PM



---
I could not find any reference that the USS STRONG participated in the recovery of Mercury Redstone 4 (Grissom). This cover with the ship's postmark on July 21, 196? sold for $213. Any information would be appreciated.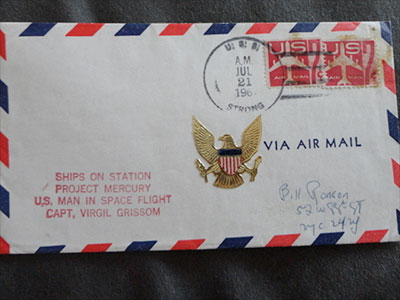 DChudwin
Member

Posts: 972
From: Lincolnshire IL USA
Registered: Aug 2000

posted 06-22-2013 08:21 AM




---
It is interesting that this cover was sent to Bill Ronson, who later was the owner of Orbit Covers. This outfit produced covers with fake cancels, including the "plugged 9" Cape Canaveral postmark which was used to backdate covers during Gemini and Apollo.

For a discussion of Ronson, see this thread.

While Ronson produced many legitimate covers, the provenance of this item raises some questions as to its legitimacy.
Ross
Member

Posts: 373
From: Australia
Registered: Jul 2003

posted 06-22-2013 09:00 AM




---
This ship was definitely not involved in MR-4. As well as my own research, Tom Steiner confirmed that the ship was not involved. He said...
In researching the USS Strong deployment Feb-Aug 1961, the ship was in the Italian shipyard La Spezia for emergency repairs to the ship boilers July 18-23 1961 so it was NOT involved in the mission.
The price amazed me for what is purely a commemorative cover.

Note that there is another cover for sale on eBay (121128716131) which is said to be a MR-2 USS Boston cover. This is also just a commemorative cover as the USS Boston was not involved in MR-2.