eurospace
Member

Posts: 2478
From: Brussels, Belgium
Registered: Dec 2000

posted 07-26-2007 05:07 AM




---
France will issue a surprise commemorative stamp to honor the 50th Anniversary of the Space Age.

The stamp with a face value of 85c, the rate for standard letters up to 20 grams to overseas destinations, will be issued on 4 October, the day of the 50th Anniversary of the first human satellite, Sputnik. On this day, the stamp will be available on four locations throughout the country (Paris, Kourou, Toulouse, and Evry). A First Day of Issue cancellation will be used there. From 5 October 2007, the stamp will be available in all post offices of the country.

The stamp measures 47x27 mm (53x31 mm perforation included) and shows Sputnik, an Apollo spacecraft, the remote sensing satellite SPOT, Ariane V carrying an ATV cargo freighter, and a Soyuz rocket carrying the French Corot satellite.

The stamp was not initially included in the annual stamp programme of the French postal administration. It was added upon pressure from the French space agency and interested parties.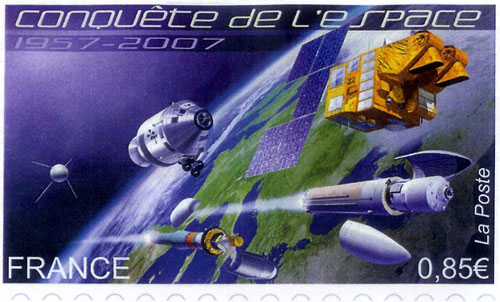 Robert Pearlman
Editor

Posts: 35524
From: Houston, TX
Registered: Nov 1999

posted 07-27-2007 06:47 PM




---
CNES release
Commemorative stamp issued by the French post office

The French post office (La Poste) is to issue a special commemorative stamp. Entitled "1957-2007, la conquête de l'espace" (1957-2007, the conquest of Space), the stamp will feature Sputnik, Apollo, the SPOT 5 satellite and the Ariane 5 and Soyuz launchers.

On 4 October, first day covers will be issued from four temporary post offices set up in each of the towns where CNES has a facility:

CNES headquarters in Paris

Cité de l'Espace in Toulouse

Evry 2 shopping centre

Space museum at the Guiana Space Centre in Kourou
The commemorative is also mentioned on CNES's website (in French) in an entry dated for June 21.
eurospace
Member

Posts: 2478
From: Brussels, Belgium
Registered: Dec 2000

posted 10-01-2007 04:24 PM




---
For this stamp, four special post offices will be deliver a special hand-cancel cachet, create by Gilles Bosquet: