eurospace
Member

Posts: 2275
From: Brussels, Belgium
Registered: Dec 2000

posted 12-31-2006 01:10 AM




---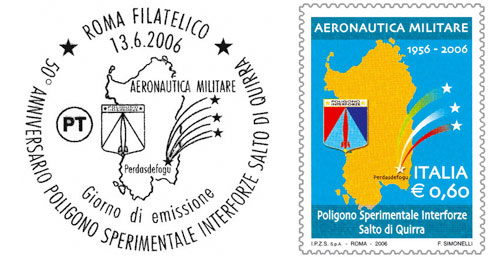 Italy has issued a stamp commemorating the 50th Anniversary of the Salto di Quirra Military Interservice Test Centre on Sardegna last July.
The center served as a launch site for sounding rockets. This spring, it will be the location of a drop test of a spaceplane project called USV.
Against a light blue background, the stamp shows the outline of the Region of Sardinia, with a star marking the municipality of Perdasdefogu (Ogliastra), where the Experimental and Interforce Training Shooting Range Salto di Quirra is located; out of it rise a green, white, and red jet trail and three more stars representing the Armed Forces; on the left is the institution's coat of arms.
The words "AERONAUTICA MILITARE" (AIR FORCE), "POLIGONO SPERIMENTALE INTERFORZE SALTO DI QUIRRA" (EXPERIMENTAL AND INTERFORCE TRAINING SHOOTING RANGE IN SALTO DI QUIRRA), "ITALIA", the dates "1956 – 2006" and the denomination "€ 0,60" complete the stamp.

------------------
Jürgen P Esders
Berlin, Germany
http://groups.yahoo.com/group/Astroaddies
[Edited by eurospace (December 31, 2006).]