MB
Member

Posts: 90
From: Olmsted Falls, Ohio U.S.A.
Registered: Jul 2005

posted 03-29-2006 08:22 PM




---
To commemorate the 25th anniversary of the first space shuttle flight (STS-1), the United States Postal Service will feature a special pictorial stamp cancellation. The pictorial cancellation stamp event take place in conjunction with the NASA Glenn Visitor Center's 3rd Saturday program entitled: "The Space Shuttle's Silver Anniversary," on April 15, 2006, from 10:00 AM to 3:00 PM.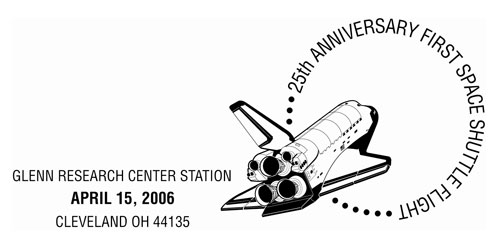 The Cleveland U. S. Postal Service will set up a temporary post office on site in the NASA Glenn Visitor Center, 21000 Brookpark Road, in Cleveland, Ohio. The temporary post office will be selling current postage stamps of the Lady Liberty & United States Flag, Lunar New Year, X-Planes (Priority & Express Mail) and others.
The NASA Glenn Visitor Center will have envelopes with a Cachet commemorating the STS-1 25th Anniversary. The Cachet will consist of the STS-1 mission emblem. The Pictorial Cancellation Stamp is the ink stamp that cancels the postage stamp. The Pictorial Cancellation Stamp can be applied to any object as long as it has a current postage stamp on the object.

Those who cannot attend the event, but who wish to obtain the cancellation, may submit mail order requests. Pictorial cancellations are available only for the date indicated, and requests must be postmarked no later than 30 days following the requested pictorial cancellation date.
All requests must include a stamped envelope or postcard bearing at least the minimum First-Class Mail postage. Items submitted for cancellation may not include postage issued after the date of the requested cancellation. Such items will be returned un-serviced. Customers wishing to obtain a cancellation should affix stamps to any envelope or postcard of their choice, address the envelope or postcard to themselves or others, insert a card of postcard thickness in the envelopes for sturdiness, and tuck in the flap. Place the envelope or postcard in a larger envelope and address it to:
PICTORIAL CANCELLATIONS
GLENN RESEARCH CENTER STATION
POSTMASTER
5600 Woodland Ave.
CLEVELAND, OH 44104-9998
(Using all capitals and no punctuation, except the hyphen in the zip + 4 code).
Costumers can also send stamped envelopes and postcards without addresses for cancellation, as long as they supply a larger envelope with adequate postage and their return address. After applying the pictorial cancellation, the Postal Service returns the items (with or without addresses) under addressed protective cover.
For further information contact:
Eunice Rodgers
Jesse Owens Post Office
5600 Woodland Ave.
Cleveland, Ohio 44104-9998
216-881-0407 or 216-881-0902
MB
Member

Posts: 90
From: Olmsted Falls, Ohio U.S.A.
Registered: Jul 2005

posted 04-06-2006 12:16 PM




---
The post office informed me that an individual is allowed to submit up to 50 covers for cancellation for free. Any additional covers it will cost $0.05/per cover. If you send a check to cover the cost for any additional covers, please make the check out to "Post Master."
eurospace
Member

Posts: 2275
From: Brussels, Belgium
Registered: Dec 2000

posted 04-07-2006 01:46 PM




---
Are there any pictorial cancellations planned for other locations, such as KSC, Houston, Huntsville or elsewhere?

------------------
Jürgen P Esders
Berlin, Germany
http://groups.yahoo.com/group/Astroaddies
Ken Havekotte
Member

Posts: 1823
From: Merritt Island, Florida, Brevard
Registered: Mar 2001

posted 04-07-2006 02:43 PM




---
Jurgen--Nothing planned here for the Cape/KSC areas. Philatelically speaking, there just isn't enough interest in doing something like this. We did many pictorial cancels throughout the 1990s; astronaut celebrations, significant planetary and lunar probes, John Glenn and Eileen Collins special commemoratives, a Saturn V grand opening, the Space Mirror memorial, the 100th Shuttle launch, all the Russian Space Station Mir missions, many Apollo 11 events, Space Fest, Apollo 1 and Challenger postmarks, the Cape's first launch golden anniversary, and even some secondary (and official) space-related first day issues, plus many others. The 90s was an exciting and productive decade for astrophilatelists, but for reasons unknown--perhaps with the Shuttles not flying since early 2003--it just hasn't been the same.
eurospace
Member

Posts: 2275
From: Brussels, Belgium
Registered: Dec 2000

posted 04-08-2006 03:32 AM




---
Thanks for the update, Ken. In fact I thought that the 25th Anniversary cancel would fit nicely in the series of previous cancels you mention.

I reckon that without a functional manned space programme interest in memorabilia is fading. Same down here - interest is nowhere where it once was.

------------------
Jürgen P Esders
Berlin, Germany
http://groups.yahoo.com/group/Astroaddies