Robert Pearlman
Editor

Posts: 50817
From: Houston, TX
Registered: Nov 1999

posted 08-07-2023 06:23 PM




---
NASA awarded Intuitive Machines a contract to deliver research, including six NASA payloads, to the moon.
The investigations aboard Intuitive Machines' Nova-C lander for the IM-1 mission are destined for the lunar south pole near the Malapert A crater. The NASA payloads will focus on demonstrating communication, navigation and precision landing technologies, and gathering scientific data about rocket plume and lunar surface interactions, as well as space weather and lunar surface interactions affecting radio astronomy.
Intuitive Machines describes its IM-1 mission patch as follows: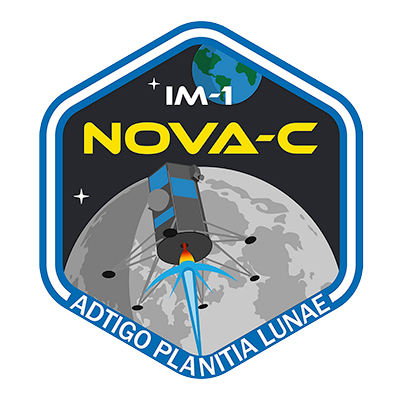 The IM-1 mission patch is a point of pride, a touchstone for everyone that's putting their effort into something bigger than themselves. The two stars represent two of our founders: Tim Crain and Steve Altemus. The moon and Earth, are brought together by Nova-C, and surrounded with a solid band representing our third founder, Kam Ghaffarian. Most importantly, the phrase "Adtigo Planitia Lunae," which (roughly) translates to "Stick The Landing."
Intuitive Machines has not released an embroidered patch for sale, though the design can be purchased on apparel through the company's store or Lands' End.