Robert Pearlman
Editor

Posts: 50779
From: Houston, TX
Registered: Nov 1999

posted 07-24-2023 10:45 AM




---
A-B Emblem has released a new 3-by-4-inch patch (design no. 453654) for NASA's Extravehicular Activity (EVA) and Human Surface Mobility (HSM) Program (EHP), which work with the space agency's partners to advance the technologies associated with human mobility and lunar surface infrastructure in support of NASA's Artemis missions.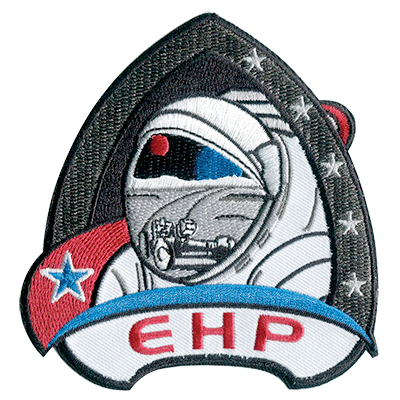 The EHP vision is to provide safe, reliable, and effective EVA and HSM capabilities that allow astronauts to survive and work outside the confines of a spacecraft on and around the Moon. Artemis missions will return humans to the surface of the Moon using innovative technologies to explore more of the lunar surface than ever before. We will collaborate with commercial and international partners and establish the first long-term presence on the Moon. Then, we will use what we learn on and around the Moon to take the next giant leap: sending the first astronauts to Mars.

The EHP and partners will collaborate on developing lunar capabilities to increase productivity of relevant systems allowing crew to accomplish more during Artemis missions. Focus will be on high-risk technologies for lunar surface systems that will provide mission planners with more choices, thereby increasing mission success. In pursuing these types of capabilities, NASA and potential partners will develop new and improved technologies that will provide additional options for terrestrial applications in multiple industries.
Kevin T. Randall
Member

Posts: 1528
From: Chesham, Bucks UK
Registered: Dec 2008

posted 08-01-2023 12:50 AM




---
For this EHP patch the details on the embedded labels are as follows;
453654 Made In USA 06/23 20 (on an old style plain white label without the crown logo)