Robert Pearlman
Editor

Posts: 50023
From: Houston, TX
Registered: Nov 1999

posted 02-16-2023 10:37 AM




---
A-B Emblem is now offering a new 4-inch patch based on the logo for NASA's ISS Transportation Integration Office (design no. 448810).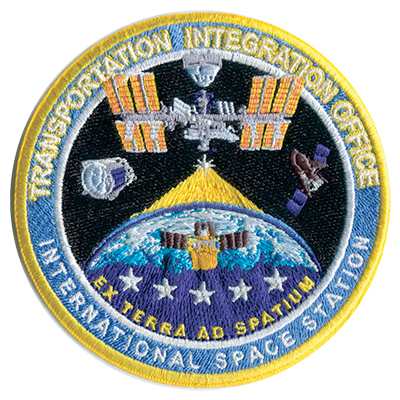 KSCartist
Member

Posts: 3034
From: Titusville, FL
Registered: Feb 2005

posted 02-16-2023 02:08 PM




---
I am thrilled to announce that this patch is Jorge Cartes' and my latest collaboration with NASA.

Last year, I was contacted by the NASA Transportation Integration Office based in Houston to help them come up with an emblem. Their mission (as their name implies) is to help coordinate traffic to and from the ISS.

I submitted a few draft designs but ended up completing a rough design from a member of their team. A familiar occurrence as clients need to see art presented to help them with solidify their ideas. So in their words, I am the "co-author."

The design features the ISS (of course) but also includes a docked Soyuz and berthed Northrop Grumman Cygnus, a SpaceX Dragon, Boeing Starliner, a Sierra Space Dream Chaser and a JAXA HTV-X.

The five stars represent the five national space agencies and the Latin motto: "EX TERRA AD SPATIUM" translates to "From Earth to Space."
Kevin T. Randall
Member

Posts: 1483
From: Chesham, Bucks UK
Registered: Dec 2008

posted 02-28-2023 12:12 PM




---
This is another super designed patch Tim and Jorge.

The confirmed details on the embedded labels seen so far is as follows;
448810 A-B Emblem Made In USA 02/23 20