posted 02-01-2023 10:33 AM




---
In 2018, when the book "Bringing Columbia Home" by Michael Leinbach and Jonathan Ward was about to be published, I was moved to design a patch that could honor the STS-107 crew and the heartbreaking and inspiring story of the recovery effort.

When patches were made I licensed the Patricia Huffman Smith NASA Museum to sell them as a fundraiser. They soon sold out.

In March 2022, when Lynn and I made the pilgrimage to Hemphill, Texas, we met with Belinda Gay and toured the museum. She told us that they still receive requests for the patch, so I knew what had to be done.

For this 20th anniversary and in perpetuity I updated the design and not only licensed but transferred ownership of this art to the museum. This way they can use it anyway their board decides will benefit their programs.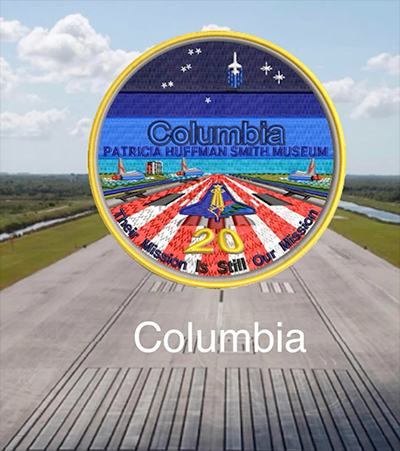 As of Wednesday (Feb. 1), the museum is offering t-shirts and caps first. Patches will follow. I'll share their order form when I receive it.
This entire month the museum will sell and take reservations for shirts and patches. I ask that you be patient because they don't have a large staff.
The focus of the design is the STS-107 crew patch descending to land at the Kennedy Space Center Shuttle Landing Facility runway. The dawn sky is now only shades of blue.
The runway is illustrated as the stripes in the U.S. flag. The seven large stars above represent the seven states Columbia flew over on her flight home. Together they illustrate that the shuttle program and specifically the recovery was a national effort. The stars and stripes are inspired by a 1981 Robert McCall painting.
The other stars in the heavens represent the Columbia crew (from their mission patch) and the two searchers who were killed in the helicopter crash during the recovery effort: US Forest Service Pilot Buzz Mier and Charles Krenek of the Texas Forest Service.
Finally, NASA T-38 jets escort the STS-107 patch and perform the "Missing Man" maneuver representing astronauts honoring their fallen comrades. This part has been tweaked as well to distinguish it from the original patch.
Under the name Columbia, I've added the name of the museum. The motto has been changed to: "Their Mission is Still Our Mission."
The original patch was designed with help from Dr. Jorge Cartes of Madrid, Spain and Nathan Moeller of The Woodlands, Texas.
Only available from:
Patricia Huffman Smith NASA Museum
375 Sabine Street, Unit B
Hemphill, Texas 75948
Telephone: 409-787-4827
Email: columbiamuseum@yahoo.com