Robert Pearlman
Editor

Posts: 49040
From: Houston, TX
Registered: Nov 1999

posted 09-09-2022 02:03 PM




---
At 693 square feet (64 square meters), the phased array on AST SpaceMobile's BlueWalker 3 satellite will be the largest commercial communications array ever deployed to low Earth orbit.
This large array of antennas is designed to connect directly to existing mobile phones from a much longer distance than traditional cell towers.

AST SpaceMobile is building the first and only space-based cellular broadband network accessible directly by standard mobile phones. The BlueWalker 3 test satellite is planned to reach orbit Sept. 10 on a SpaceX Falcon 9 rocket launched from Kennedy Space Center in Florida.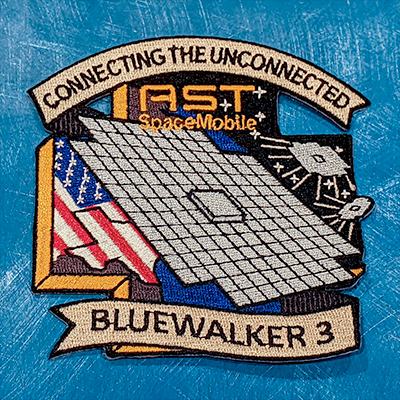 The embroidered patch is not yet available, but decals, magnets and other items featuring the insignia are available from the AST SpaceMobile shop.