Robert Pearlman
Editor

Posts: 48597
From: Houston, TX
Registered: Nov 1999

posted 06-26-2022 06:05 PM




---
Concord Aerospace has introduced AstroCoasters, a new collection of slate drink coasters featuring mission patch designs.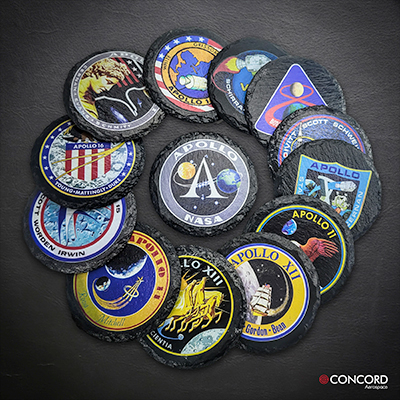 Add a natural accent to your table décor with the Concord Aerospace AstroCoasters. They are a great decorative option to keep your table free of watermarks and beverage stains while showcasing your love of aerospace.

We have designed these coasters with magnetic backs which allow for a great way to display (and store) them when not in use.

4" x 4" (10.16cm x 10.16cm)

Laser-etched back panel.

Special paint application for full-color artwork.

Aerospace Grade Satin Clearcoat Finish Coat Application.

Resistant to stains and scratches.

Slate does not need as much maintenance as other stones and can be washed with warm water and a small amount of a mild detergent when cleaning is needed.
AstroCoasters are available with the Gemini program logo, Space Force logo, Apollo program logo and mission patches (including Skylab and ASTP), and first two space shuttle mission patches.

They are priced at $12 each or in bundles: four for $10.80 each; eight for $10.20 each; and 12 for $9.60 each. The full Apollo program (13 coasters) is $99.