Robert Pearlman
Editor

Posts: 47849
From: Houston, TX
Registered: Nov 1999

posted 02-14-2022 07:48 AM




---
SpaceX's Falcon 9 rocket will launch the Polaris Dawn mission with crew members Jared Isaacman, Scott "Kidd" Poteet, Sarah Gillis and Anna Menon.

The four will spend up to five days in orbit on a SpaceX Dragon, during which they will endeavour to reach the highest Earth orbit ever flown, conduct scientific research, attempt the first-ever commercial spacewalk and test Starlink laser-based communications in space.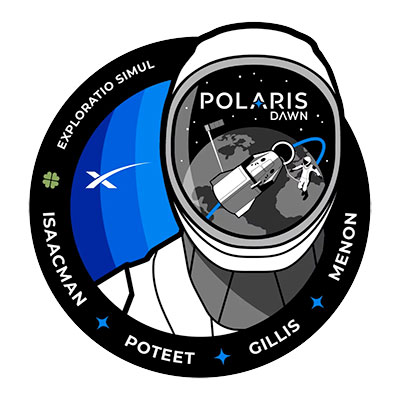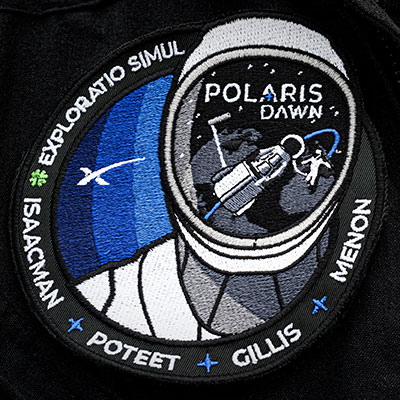 Apparel with the Polaris Dawn mission patch design is now available from the Polaris Program shop, but the patch itself is not yet for sale.
Robert Pearlman
Editor

Posts: 47849
From: Houston, TX
Registered: Nov 1999

posted 02-16-2022 06:21 PM




---
From the Polaris Program (via Twitter):
Take a look at our first mission patch, summing up the key elements of the first mission of the Polaris Program — Polaris Dawn.

exploratio simul — "exploration together"

Thank you to Morgan Denman for your beautiful design work!
From Polaris Dawn pilot Scott "Kidd" Poteet (via Twitter):
Nothing more symbolic in the USAF than a squadron patch. Morgan delivered on this one for sure. So many people working behind the scenes deserve to have their name on it. Names on a patch will soon be replaced by 100+ names on a pax manifest.
From Denman's website:
I have a BFA from The College of Saint Rose where I majored in Graphic Design. After freelancing for a year post-graduation, I was lucky enough to join the team at Kennedy Space Center Visitor Complex as a Graphic Designer. I worked at Kennedy Space Center Visitor Complex for 3 years, learning more about space and design every day.

Working at Kennedy Space Center allowed me to develop in many ways. During my time there, I developed many new skills as well as enhanced old ones. I also developed a passion for space and using my designs and illustrations to communicate, educate and inspire others. I recently began working with a contractor as a graphic designer for NASA Headquarters and I am very excited to see what projects and challenges this new opportunity might bring!