Paul J. Brennan
Member

Posts: 212
From: Linden, CA
Registered: May 2019

posted 11-13-2021 05:02 PM




---
So this morning I was watching my local TV coverage of a Webb Telescope informational event being held in Sacramento, California and saw an "official" representative from NASA wearing a Solar System Ambassadors patch (read here about the program).

It's a legit program, but the first time I've heard of it. Did a search to see if anyone was selling official patches, but none were to be found. Maybe AB Emblem created these for the designees only? It appears that there are currently only 1081 active Ambassadors in the U.S.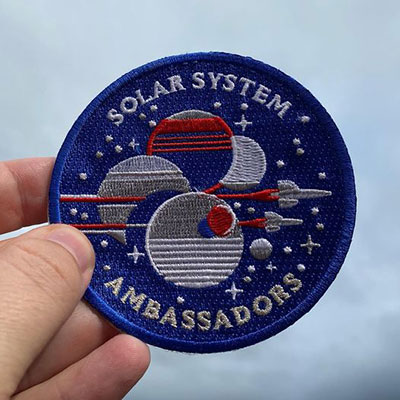 randy
Member

Posts: 2506
From: West Jordan, Utah USA
Registered: Dec 1999

posted 11-13-2021 06:59 PM




---
That sounds about right. I'm one of about 10-15 SSAs in Utah. And yes, those patches are for SSAs only.
Paul J. Brennan
Member

Posts: 212
From: Linden, CA
Registered: May 2019

posted 11-14-2021 01:35 AM




---
Thanks for the clarification Randy. Great idea and hope the program grows. Thank you for your contribution to the space program, and expanding people's understanding of the world above and beyond.