KSCartist
Member

Posts: 2939
From: Titusville, FL
Registered: Feb 2005

posted 10-26-2020 10:49 AM




---
This commemorative patch for SpaceX's Crew 1 mission was inspired by the "All for 1, 1 for All" crew t-shirt. Crew 1 is depicted like four musketeers raising their swords to touch the number "1" from the crew patch.

The "1" is depicted in a stylized launch graphic towards the Commercial Crew star. The star and the three gold lines coming from it pay homage to the astronaut symbol.

The Pacific rim of Earth is depicted behind the crew to represent Japan and the United States, the home countries of this crew.

"ALL FOR 1 FOR ALL" is the crew motto which pays tribute to all of the people who are working to make this mission possible and in turn recognizes the work performed by this crew will benefit all of us on Earth. The crew names border the patch and the artists' initials will be ghost stitched at the bottom.

The Crew-1 mission is due to launch in mid-November. I expect to receive my master order no later than Nov. 12th and will immediately ship them to the authorized retailers: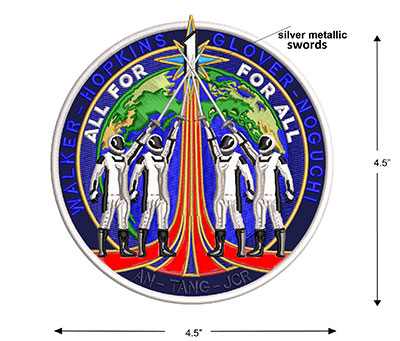 Paul J. Brennan
Member

Posts: 152
From: Linden, CA
Registered: May 2019

posted 10-31-2020 11:59 PM




---
Thanks Tim. Pre-ordered one yesterday. Great design!