SXPatches
Member

Posts: 33
From: Port Orchard, WA USA
Registered: Jul 2020

posted 09-13-2020 03:26 PM




---
I am attempting to identify the manufacturer of two vintage Apollo 1 mini patches labeled 'Unknown #1' and 'Unknown #2' (pictured left in the image below), as seen on my Space eXploration Patches website.

Unknown #1 could be A-B Emblem, Swissartex or Cape Kennedy Medals when comparing them with similar patches found on the Crew Patch website and Space Patch Database website.

Unknown #2 appears to be an unfinished or prototype patch and while it appears similar to the other patches in the image below, the type style of the number 1 is different. Any assistance with identifying my Unknown #1 and #2 patches is appreciated. Thank you.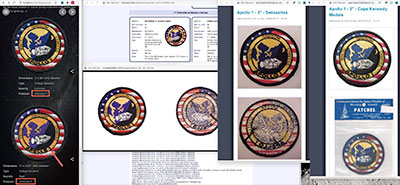 SXPatches
Member

Posts: 33
From: Port Orchard, WA USA
Registered: Jul 2020

posted 09-14-2020 08:04 PM




---
For now, I have assigned Cape Kennedy Medals as the manufacturer for these two mini souvenir patches based on patches pictured in original packaging. Let me know if you disagree.