KSCartist
Member

Posts: 2928
From: Titusville, FL
Registered: Feb 2005

posted 05-31-2020 01:28 PM




---
Announcing a new patch especially for the participants around the world who joined in celebrating LAUNCH AMERICA and the return to U.S. crew launches from my home, "America's Space Coast." This was the first time I was able to participate in a NASA Social and I couldn't let this go without creating something special.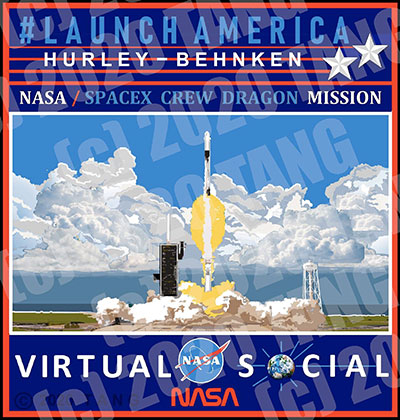 Per request, the patch illustrates the launch of the Falcon 9 and Crew Dragon from iconic Launch Complex 39A at the Kennedy Space Center, the same pad that launched the first crew to fly an Apollo Saturn V and the space shuttle.
The patch will include the date of the launch 30 MAY 2020. I will also sign the reverse unless requested not to.
The patch will be available only from SkyForce Space Patches, a company I've worked with since 2008. If you have any questions, you can email Joe Fricano.
For U.S. domestic orders the cost will be $15 each including shipping. For international orders it will be $20 including shipping.
Orders for the first batch of patches will be accepted through Sunday, June 14, 2020. On June 15th, I will submit the master order and you should expect six to eight weeks for manufacture.
KSCartist
Member

Posts: 2928
From: Titusville, FL
Registered: Feb 2005

posted 06-26-2020 07:07 PM




---
This has taken longer than I expected and more than one attempt to get it right was necessary. I can now present to you the commemorative patch I designed for everyone who participated in the Virtual Social for DM-2.

The patch is 4.5 inches wide by 5.5 inches high. The clouds and dark skies allude to the launch delay of May 27th.

SkyForce Space Patches has extended the ordering period until June 30th. On July 1st the master order will be placed and manufacture should take approximately 4 weeks. If you have any questions please don't hesitate to contact me.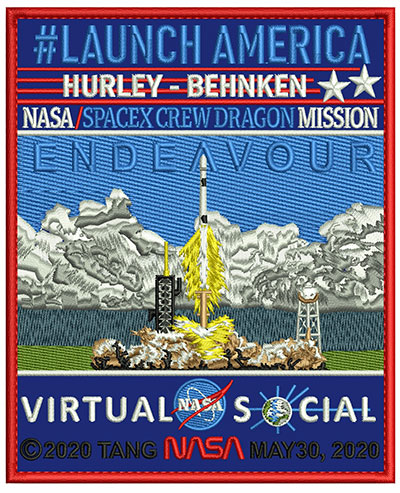 SpaceCadet1983
Member

Posts: 272
From: Pacific NW, United States
Registered: May 2012

posted 06-26-2020 07:34 PM




---
Absolutely beautiful, Tim!
Paul J. Brennan
Member

Posts: 139
From: Linden, CA
Registered: May 2019

posted 06-26-2020 08:37 PM




---
Beautiful! Looking forward to seeing it up close.
space4u
Member

Posts: 326
From: Cleveland, OH USA
Registered: Aug 2006

posted 06-26-2020 08:51 PM




---
Gorgeous Tim. Glad I pre-ordered it!
SXPatches
New Member

Posts: 9
From: Port Orchard, WA USA
Registered: Jul 2020

posted 08-04-2020 07:21 PM




---
Just received my Virtual Social SpaceX Crew Dragon Launch patch!! Thank you Joe at Skyforce Space Patches!

Great design Tim!