Liembo
Member

Posts: 620
From: Bothell, WA
Registered: Jan 2013

posted 12-23-2019 03:46 PM




---
There appears to be two, possibly three variations of the original 1978 NASA astronaut class (TFNG, or "Thirty-Five New Guys") patch:
Yellow left side white ET/SRBs

Orange left side white ET/SRBs

Orange left side with two-toned ET/SRBs
This is a scan of two originals (top) and the later replica (bottom). The top right original belonged to Shannon Lucid. I don't have provenance of the left patch, the construction is identical. They have the same thin, somewhat flexible construction as original STS-1 and STS-2 patches seemed to have.

The fill style of the replica sets it apart, though it is an admirable replica.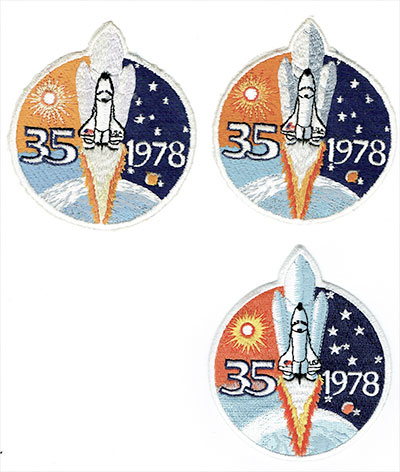 MajTom7
Member

Posts: 37
From: Cocoa, FL USA
Registered: Aug 2011

posted 04-20-2020 03:42 PM




---
"Liberated" my patch from between the pages of Rhea's book, yellow on the left with the boosters two tone, white and light yellow. Flames are three tone, white, light yellow, and yellow. Looks like it's a replica.