Robert Pearlman
Editor

Posts: 42985
From: Houston, TX
Registered: Nov 1999

posted 09-15-2019 11:04 AM




---
The ESA Space Shop is offering the Hera mission patch:
ESA's planned Hera mission, named after the Greek goddess of marriage, will be humankind's first probe to rendezvous with a binary asteroid system – a little understood class making up around 15% of all known asteroids.

Hera is the European contribution to an international double-spacecraft mission called AIDA. NASA will first crash its DART spacecraft into the smaller of the two bodies, "Didymoon," modifying its orbit around the primary asteroid, "Didymos," by a tiny amount. Hera will then follow-up with a detailed post-impact survey, turning this grand-scale experiment into a well-understood and repeatable planetary defense technique.

While doing so, Hera will gather crucial scientific data, helping scientists and future mission planners better understand asteroid compositions, structures and behaviors in response to a "kinetic impact."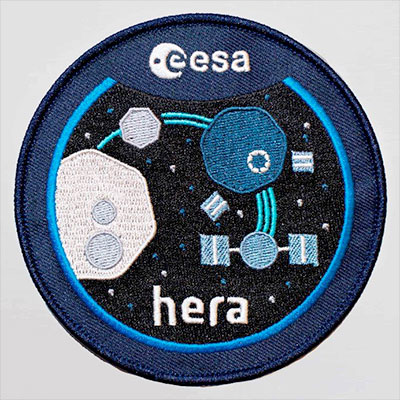 Robert Pearlman
Editor

Posts: 42985
From: Houston, TX
Registered: Nov 1999

posted 09-15-2019 11:08 AM




---
Ian Carnelli, ESA's Hera mission manager, shared this photo of the mission's emblem aboard the International Space Station as taken by Expedition 60 flight engineer Luca Parmitano.