Kevin T. Randall
Member

Posts: 1415
From: Chesham, Bucks UK
Registered: Dec 2008

posted 07-08-2022 06:26 AM




---
The Boeing Store have just released again the original full size 3.5" wide by 5.1875" high Starliner Flight Crew patch with Fincke, Ferguson, and Mann on it. With the original SKU number 580085020013.

The patch they show on their website is not the new revised three crew named version with Wilmore replacing Ferguson on it. Is this an error or is it deliberate to sell off the remaining stocks of what now is an obsolete original three crew names manned Flight Test patch?
Robert Pearlman
Editor

Posts: 48683
From: Houston, TX
Registered: Nov 1999

posted 07-11-2022 11:48 AM




---
I can confirm the patch now for sale is the Fincke, Ferguson and Mann version.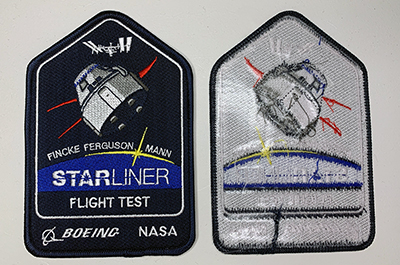 The patch was designed after Mike Fincke replaced Eric Boe, so no version exists for the original crew. To my knowledge, Boeing only produced a small number of patches after Butch Wilmore replaced Chris Ferguson and they were only of the flight version (no NASA or Boeing logos at the bottom of the patch).
Still to be seen is if Wilmore and Suni Williams will wear the same design (with the appropriate names changed) or if a new patch will be introduced.
Kevin T. Randall
Member

Posts: 1415
From: Chesham, Bucks UK
Registered: Dec 2008

posted 07-13-2022 12:16 PM




---
The Crew Flight Test patch shown above have now sold out from the Boeing internet store. They may well still be some available from a few of their U.S. stores?