Robert Pearlman
Editor

Posts: 42985
From: Houston, TX
Registered: Nov 1999

posted 07-21-2019 11:41 AM




---
Northrop Grumman's Cygnus CRS-11 mission in April 2019 carried with it a payload from Big Ass Fans:
This physical science experiment will evaluate airspeed and temperature of elevated airflow created around an obstruction using a small circular fan within a sealed environment. Compared to a series of fluid dynamics models, airspeed and thermal measurements can help validate and calibrate such simulations in microgravity. This investigation increases the accuracy for Computational Fluid Dynamics simulations and supports improved development of technology for thermal control in microgravity and ambient environments on Earth.
"Mission F.A.N.N.E." (Fan Airflow Navigation and Numerical Evaluation) as the company dubbed it, had its own mission patch: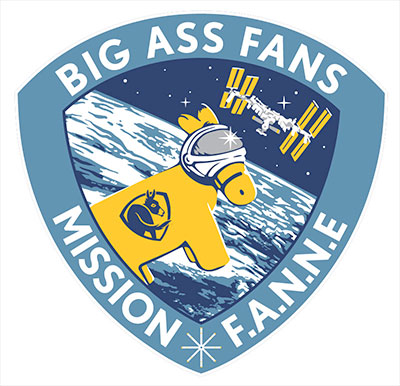 Big Ass Fans' gear shop offers a Space Fanny Pack ($10):
It's not every day that you celebrate your 20th anniversary with an expedition to the final frontier. But that's what Big Ass Fans did, and we've got the loot to prove it. For a limited time, you can purchase a piece of this historic undertaking with the Space Fanny Pack. With a T-shirt, sew-on patch, and set of stickers featuring our Mission F.A.N.N.E. design, your street cred will be out of this world. Wear them with pride!