Robert Pearlman
Editor

Posts: 41503
From: Houston, TX
Registered: Nov 1999

posted 04-19-2019 01:06 PM




---
From today's (April 19) pre-flight press conference with the crew (Alexander Skvortsov of Roscosmos, Andrew Morgan of NASA and Luca Parmitano of the European Space Agency), a look at the Soyuz MS-13 mission patch: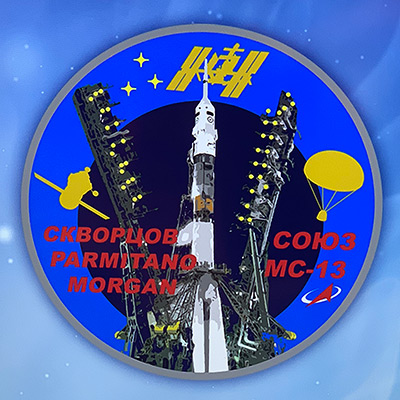 Robert Pearlman
Editor

Posts: 41503
From: Houston, TX
Registered: Nov 1999

posted 04-21-2019 03:27 PM




---
Here is the artwork without the background: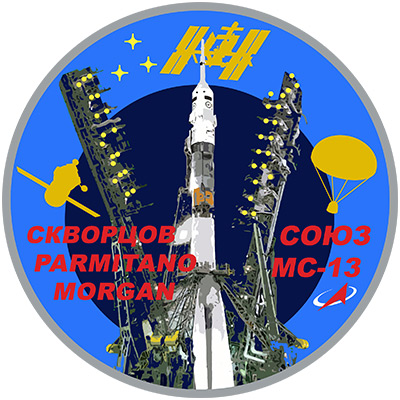 lucspace
Member

Posts: 376
From: Hilversum, The Netherlands
Registered: Oct 2003

posted 04-21-2019 04:24 PM




---
The circular Soyuz MS-13 crew patch focuses on the Soyuz launcher, depicted sitting on the Baikonur launch pad, while the service tower is opening as the spaceship is preparing to be launched into orbit.


With the craft enclosed in the rocket nosecone, the launcher scene is surrounded by silhouetted stages of the Soyuz's lifecycle during its mission to the International Space Station. To the left is the ship approaching the orbital facility, which itself is depicted at the top of the design, while the missions end is illustrated by the parachute-assisted landing of the descent module.


Three gold star to the left of the ISS represent the spaceship crew, consisting of Russian commander Skvortsov, NASA astronaut Morgan and ESA astronaut Parmitano. Their names are positioned on the left while the Roscosmos logo is shown on the right of the design, underneath the spacecraft's designation.

Designed by Luc van den Abeelen. Copyright Roscosmos.