Interkomos
Member

Posts: 12
From: Moscou
Registered: Oct 2018

posted 12-24-2018 07:35 AM




---
This badge appears for the first time on the combinations of members of the Soyuz 9 mission in 1970. It is then worn by the cosmonauts Soyuz flights 10, 11, 13, 14, 17, 18b, 19, 29 and TM15 (SV Avdeev).

Even today its exact name is subject to debate. According to Alexander Glushko, author of "Design for Space: Russian and Russian Mission Patches," it is the first version of the "Salyut" crest. For the team of the site spacepatches.nl, it is about the logo of the company "Vympel," creator of the combinations of flight TNK1 and TNK "athlete."

But the symbolism of the patch indicates a completely different origin. In the center, a globe where only the USSR. Brochant on the latter, a rocket bearing the acronym "C.C.C.P." denotes an institutional and non-industrial organization. The whole is surrounded by an octagon evoking the shape of a diamond, or "almaz" in Russian. The bottom of the badge represents a radiant sun. The symbolism of the insignia can be interpreted as: "Almaz station orbiting around the world radiates the glory of the USSR."

In all likelihood, this is the badge of the military cosmonauts assigned to Almaz Station or "Team No. 2."

Another hypothesis (from here) attributes this crest to the OKB52 plant. Another element in the direction of the military cosmetics and the recurrence of this patch during international missions (Apollo-Soyuz, TM-11), i.e. the missions most suitable for espionnite.

So how should we call it?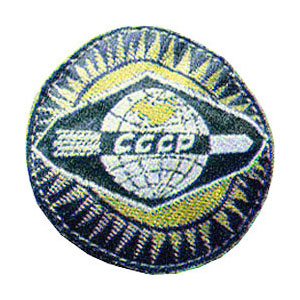 hoorenz
Member

Posts: 1028
From: The Netherlands
Registered: Jan 2003

posted 01-11-2019 04:52 AM




---
The patch was first seen on the Vimpel-produced TNK suit, which was part of an exercise package called "Diamond."

During early Salyut/two-crew Soyuz flights, one cosmonaut would typically wear the Vimpel produced suit, the other the Zvezda-produced Penguin suit (use of both suits in parallel is described in literature). The Zvezda suit had a patch of the Zvezda factory (sometimes mistakenly identified as the "Salyut" patch). The other suit — that of Vimpel — would have this Diamond patch.

Also, the three-color ground based training Vimpel flightsuits have this logo, while Zvezda-produced red/blue and all blue "training" suits have the Zvezda logo.